OMFG Our Candidates LOVE Bush
by zoopnfunk, Sat Dec 08, 2007 at 02:46:48 AM EST
OMFG -- I just used Google to uncover some damaging photos of our leading presidential candidates. It turns out they all love GWB. Furthermore, their supporters love GWB and this proves they will only continue Bush's misguided policies.
It's all ONE BIG CONSPIRACY PEOPLE!
Edwards, Bush and Cheney sharing a laugh. They're probably talking about bombing the shit out of civilization. Look at Edwards just yukking it up with his buddies.
And what's this?
Hillary and Bush enjoying a nice day. They're obviously in cahoots.
And the icing on the cake: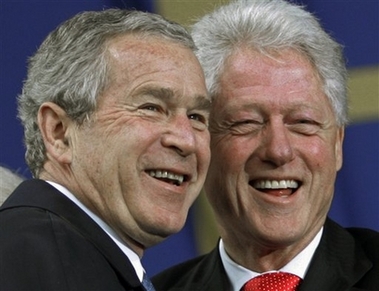 Look at bill just laughing it up with Bush. These guys are looking like frat brothers.
Tags: Bush, Candidates, Primary, snark (all tags)