Michelle Obama For First Lady 2008!
by twinmom, Mon Aug 25, 2008 at 06:29:52 AM EDT
I'm really looking forward to Michelle Obama's speech tonight.
I'll admit, I was annoyed by Joe Biden's crack about his wife Jill being "drop dead gorgeous" and his stupid frat-boy-humor joke about her PhD intelligence being "a problem". That's the best he can do when introducing (for the first time on the national stage) his highly educated, highly accomplished, life partner and mother/step mother to his children? This Dem ticket and Obama's official VP announcement represents the absolute end of the dream of millions of women that we would finally see the first woman President... and we're talking about how hot Jill Biden is?
Can we please, as Democrats, make a pact to celebrate the fact the this ticket contains 2 highly intelligent, educated and accomplished women instead of reducing them to their physical appearance? Yes, they are both quite beautiful, but there is so much more to these 2 incredible women.
To be honest, I am finding it easier to get myself excited about Michelle Obama right now than Barack Obama, so I am going with that for now. Hey, it all leads to the same place! I'd be thrilled to see her and her daughters (and perhaps her own mother?) take up residence in the White House in 2009.
Here's to supporting a strong, confident woman, lawyer, mother who (like the majority of Democrat women in this country) knows the difficulty of juggling a family and her professional life (as well as her husband's career). Michelle Obama is the intellectual equal of her husband, a woman with her own fulfilling career, her own aspirations. She is putting all of that aside to support Barack Obama's run for President. We should all be grateful and show our respect and support by keeping her resume and accomplishments front and center. She is not merely an attractive accessory to her husband, if we let her be she can be so much more than that.
She's drop dead inspiring. Let your strong voice ring out loud and clear tonight Michelle!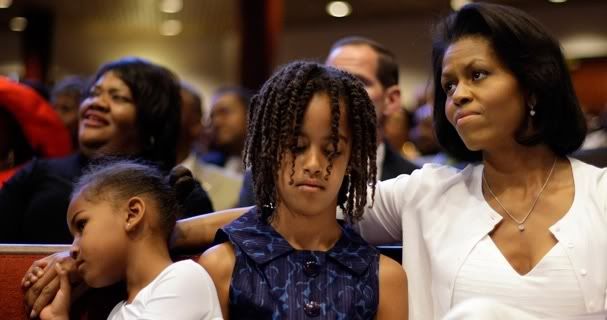 Tags: first lady, Michelle Obama (all tags)