Obama Trending Up in Gallup Daily Tracking Poll
by Shaun Appleby, Thu Jan 31, 2008 at 10:41:23 PM EST
Crossposted at OneMillionStrong
Daily tracking polls haven't meant much before now but are hard to resist in these last days headed into Super Tuesday. The Rasmussen Daily Tracking polls have often been discussed, and dismissed, in diaries and comments here but the Gallup Daily Tracking seems a horse of a different colour.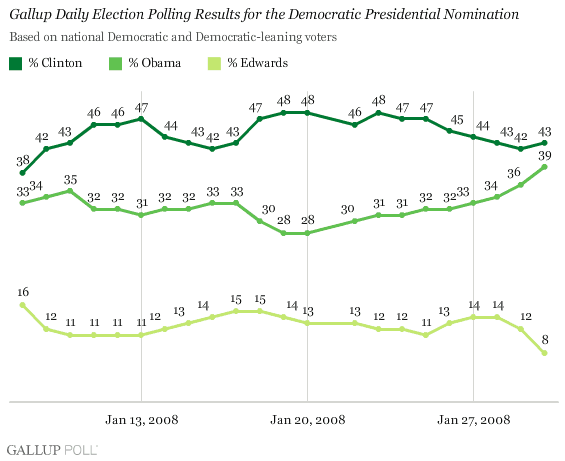 The latest Democratic numbers show Hillary Clinton with a 43% to 39% advantage over Barack Obama among Democratic voters nationwide. That four-point lead is the narrowest since early January, and it is a continuation of gains by Obama. The impact of John Edwards' exit from the Democratic race is less clear. Wednesday night's numbers (the first with Edwards excluded from the ballot) show no clear indication that either candidate is benefiting disproportionately. Clinton and Obama will debate in California tonight, which could affect Democrats' support for the two candidates going into the weekend before Super Tuesday's primaries and caucuses.

Jeff Jones - Gallup Daily: Tracking Election 2008
It's encouraging for Obama supporters to see Hillary's historic lead eroding just in time for the twenty-two state caucus and primary circus. The expectations of her finishing the contest there have been largely forgotten and both campaigns seem prepared to fight on after Super Tuesday. I believe that the remaining high confidence that Hillary will keep Obama at arms length from winning a threatening number of delegates must now be based solely on her performance in certain Congressional Districts and other demographic minutiae which is beyond my ability to comprehend or analyse.
Some thoughts on the Gallup Daily Tracking poll:

Whatever you think of IVR polls -- and the methodology certainly remains controversial in the survey research world -- the Gallup program is distinct from Rasmussen in other ways than the use of live interviewers. According to Newport, the Gallup Daily uses the "same robust methodology" as all other Gallup polls: live interviewers, a random-digit-dial sample, as many as 5 "call-backs" to those not home when they call, cell-phone sampling to reach those in cell-phone only households (something Gallup also introduced to their standard methodology this month) and Spanish speaking interviewers available for when they reach a household in which only Spanish is spoken.

That "call back" procedure may sound excruciatingly wonky, but it is important and a key distinction from the Rasmussen tracking. So far at least, Gallup has used a procedure that dialed each sampled number as many as five times over successive nights if the initial attempts were unsuccessful (that is, if the number was busy or if no one answered the telephone). They structure their calling procedure so that the sample on any given day is equivalent to a sample dialed for many days. Each day has the same mix of attempts (first, second, third and so on).

The Gallup Daily survey design has two critical benefits, according to Newport. First, obviously, it allows us to attempt to monitor the impact of major campaign events on a daily basis, such as the Barack Obama's victory in South Carolina.

Mark Blumenthal - The Gallup Daily www.pollster.com 28 Jan 08
The more conservative www.pollster.com analysis uses an aggregate of conventional national polls and is much less sensitive to daily variations, but the trend is also starting to emerge pretty clearly, if more slowly.
I am having a bit of trouble synthesising the myriad individual state polls, not to mention prediction markets, headed into this crucial period in the campaign. The daily tracking results, as a trend, seem to show a significant movement for Senator Obama and are possibly starting also to show the influence of John Edwards' decision to drop out of the race. The longer term analysis actually shows a more pronounced trend but a wider spread. But I am still unsure of what I am seeing here and perplexed on a number of other points and would welcome discussion of the following questions, among others.
Will Obama peak? Has he already? Is this trend too late to make serious inroads into Hillary's long-term lead nationally? Are we at last seeing uncommitteds making up there mind? Does large numbers of pre-submitted ballots in key states make these results irrelevant? Why are the state polls still showing Hillary with convincing margins? We shall soon see the answers to all of these questions. This is getting very interesting. What's the verdict folks, is this looking closer all the time or are we just seeing a smokescreen of irrelevant data?