The Mitt Romney Immigration Double Speak
by Robert Oak, Thu Dec 20, 2007 at 04:07:55 PM EST
crossposted on the NoSlaves.com blog
Mitt Romney wants to send your job to China and if he can't do that, he wants to bring in cheaper foreign labor to displace you anyway.




While Mitt Romney trudges across Iowa blasting his opponents on illegal immigration, look at how willing he is to labor arbitrage other Americans and increase guest worker Visas! While wages and costs are some of the legitimate concerns on illegal immigration, magically, middle class professionals are perfectly acceptable for displacement!
In a TechCrunch interview Romney declared:
Romney: I like H-1B visas. I like the idea of the best and brightest in the world coming here. I'd rather have them come here permanently rather than come and go, but I believe our visa program is designed to help us solve gaps in our employment pool.
Romney is brazenly ignoring the overwhelming evidence that there is no worker shortage and in fact a glut of
American
best and the brightest
are having their careers decimated by global labor arbitrage.
The interview went on to see if Romney would increase the number of H-1B guest worker Visas.

I would like to see us increase the number of people who receive an H-1B visa and can provide skills and experience that we may not have. As to the exact number in my view that would follow a review of a number of things.

Number 1: What's the overall economy doing? What's happening to the size of our workforce.
Number 2: What's happening to our own capacity in the jobs that are being requested.
Number 3: What are the demands from our employers? How many additional folks do they need? You'd have to do an assessment of that on a regular basis, but my overall view is we need more H1B visas, not less.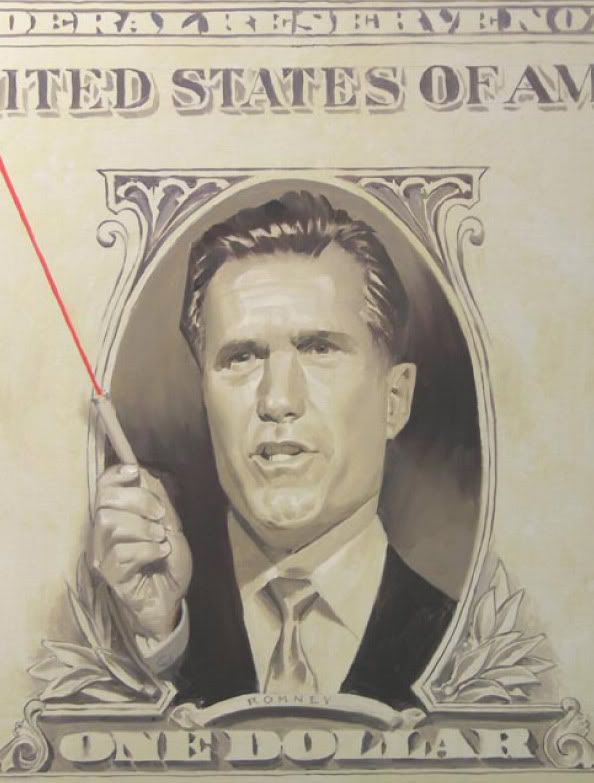 Since Romney claims we need even
more
guest worker Visas,
more immigration
, obviously the above condition list means nothing to Romney. All of those conditions show US professionals are having trouble finding a job
right now
.
Another interview quotes Romney:

Lamenting that many foreign doctoral candidates must leave the country after graduation, Romney added: I'd rather staple a green card to your diploma and say that if you can get a Ph.D. from one of our great institutions, we'd love you to stay here
And this
conservative
blog site is particularly damning:
Romney made 250 million by helping China and India get US know-how and US jobs and pushing down American programmers, engineers, scientists, and students who aspire to those jobs and a good life with income security
Selling the middle class down the river doesn't stop there! Romney also wants more
H-2A and H-2B guest worker Visas
to import even more cheap labor.
From his own website, Romney wants to increase immigration:

Encourage Legal Immigration. Streamline the system to recruit and retain skilled workers and welcome the best and the brightest from around the world to our universities.
Duncan Hunter exposes Romney's goals to offshore outsource national defense.

Presidential candidate and U.S. Congressman Duncan Hunter (R-CA) again called on Bain Capital, a company founded by former Massachusetts Governor Mitt Romney, to drop its strategic partnership with Chinese defense contractor Huawei Technologies in a bid to buy U.S. defense contractor 3Com. Hunter also called on Romney to use his continued influence with Bain to terminate the proposed merger between Huawei and 3Com, which, according to a report in today's Washington Times, would threaten U.S. national security

"This proposed deal, which Governor Romney can work to terminate should he choose to do so, is unpatriotic and damaging to national security," continued Hunter
I have to give praise to Duncan Hunter on this one. Do you really want a President who has no problems offshore outsourcing critical defense technology to China...just to make a buck? I sure don't.
On trade, good ole' Romney has no problems ignoring our ever widening trade deficit. According to Public Citizen, Romney is a Bush administration clone on trade, which is doing whatever corporations want.
Can it get worse? Why of course it can. Romney thinks U.S. businesses shouldn't worry about firing Americans!
In a message that Americans should Globalize or Die (as if globalization doesn't mean the death of America?) Romney:

advised CIOs and technology executives to stop worrying about lost jobs and concentrate on innovating globally that will grow jobs here and abroad.
While he acknowledges wages with be repressed and more jobs offshore outsourced:
jobs will continue to be lost to emerging economies but U.S. businesses have far more to gain
I truly wonder why Romney is running. Is it to represent the United Global corporations running America?
Update: Tom Tancredo sells working America down the river and endorses Romney. I have no idea what Tancredo is thinking for it's obvious Romney is hell bent on global labor arbitrage and increases in guest worker Visas, which is opposite of what Tancredo's positions have been.
Tags: duncan hunter, globalization, GOP, guest worker, H-1B, illegal, immigration, Mitt Romney, New World Order, offshore outsourcing, Presidential candidates, Tom Tancredo, trade, Visa (all tags)