by pioneer111, Wed Apr 16, 2008 at 11:08:15 AM EDT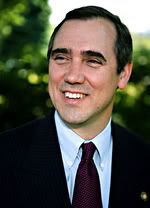 NOW at 3-4pm EDT / 12-1pm PDT Oregon Senate candidate and current House Speaker is liveblogging with the bloggers and readers at EENR! Come and join in the question and answer session. This is our second live blog at EENR. We had a wonderful session with Charlie Brown on March 24th. We are very pleased to be able to interact with Democratic candidates this way. It gives us all an opportunity to get to know the candidates better and it's an opportunity for the candidates to hear the concerns of progressive activists from across the country.
We appreciated the support from MyDD bloggers last time. We hope to see you again at this liveblog with Jeff Merkley.
What do you know about the Oregon Senate race? If you're stumped, please follow me below the fold to learn about the race and the candidacy of Jeff Merkley.