Edwards in Michigan Video: On Iraq, Gitmo, Trade, Unions, Energy, Healthcare, etc
by philgoblue, Thu Apr 26, 2007 at 05:18:13 AM EDT
On Saturday, 21 April, the day after protesting George Bush's visit to my hometown, and the morning after coaching some youth soccer, greee and I packed into his car and drove the three hours from Grand Rapids (the west coast of Michigan) to Detroit for the Michigan Democratic Party's Jefferson-Jackson Dinner.
There I videoed the entire thing so that you can virtually be there -- just click the links to go to YouTube and/or read along.
The place was packed to the gills and it was quite hard to move around the main ballroom at Cobo. I believe Party Chairman Mark Brewer said it was the largest Jef-Jac ever. We estimated that there were at least 200 tables of 10 people each - 2000+ in attendance to celebrate our Party's victories in reelecting Jennifer Granholm and Debbie Stabenow, prepare to reelect Carl Levin and listen to the keynote address by presidential candidate John Edwards.
I was met there by Jason Moon, the Communication Director of the Michigan Democratic Party, who was gracious enough to help out a blogger he didn't know from Adam get set up to video the event (and even make sure we got fed, thanks Jason, I hope I was worth it). I also got a chance to meet the indomitable LiberalLucy, the Michigan blogosphere's "cruise director." Thanks to Lucy for holding my hand and introducing me to all sorts of folks (including Virg Bernero, the mayor of Lansing, who almost had me convinced I should move to his city).
There were all sorts of fundraising pre-parties going on, but we decided not to try to crash those and instead met Brian the "Californian" from the Michigan for Edwards OneCorps group and snuck in a few smokes. I may have just missed it but it was interesting that while Edwards, Obama, and even Draft Gore folks had a table set up, there were no public Hillary supporters in the crowd.
During dinner we listened to senators Levin and Stabenow discuss the meaningful oversight that the new Democratic Senate was engaged in to pressure the Bush "Administration." Then Chairman Brewer presented a few awards and Lieutenant Governor John Cherry introduced Michigan Governor Jennifer Granholm and I started rolling my video-camera.
Granholm discussed the ongoing political and philosophical struggle with the Republicans in Lansing over the state budget before laying out four issues Michigan Democrats want to hear about from candidates for the Democratic nomination in this video:
Here's my rough transcript:
In Michigan there are four things we will ask every candidate:


Fight for Fair Trade -- we are not afraid of trade, but we must have a level playing field, and we will not support a candidate that will not fight for working people in this country. And John, I know you're on the same page

We will not support a candidate that is not talking about universal healthcare -- our support will go to that candidate that will provide healthcare for all our citizens. It's a moral and economic issue.

We are going to insist that the next president partner with us and invest in workers that have had the rug pulled out from under them by global economy. We want an emphasis on "no worker left behind." We need a president who will invest in us and our people so they can become competitive.

Senator Edwards, you're in the Great Lakes, we love our lakes, our environment and we are the home of the auto industry. We need a partnership with the federal government to invest in the infrastructure that will allow this nation to become less dependent in foreign oil. And we want a president that will invest our environment to protect the Great Lakes as well. So, Senator Edwards, it's a pleasure to have you here. And I want all of us, everyone to stand up. We need to make sure we get a Democratic Michigan House and a Democratic Senate and reelect Carl Levin. We will not rest until we replace George Bush with a Democrat that cares about Michigan!
OK, that wasn't an endorsement, but it really did seem to mirror exactly those issues that John Edwards has championed.
After our beloved governor, Congressman Bart Stupak, from Michigan's 1st Congressional District, introduced and endorse John Edwards for President.
Personally, I go way back with Bart Stupak. Since my junior year of college, I had hoped to get in-state tuition at my beloved University of Michigan (I must admit, I was mistakenly born in Wood County, Ohio) by officially moving to the village of Brutus, on the shores of Burt Lake (or, as I like to call it Lake Sheboyganing) where my family has a summer home. That put me in Michigan's 1st congressional district in 1992 and I can proudly say that I voted for Stupak in his first primary and general elections that year.
Stupak is a graduate of Saginaw Valley State University and the Thomas M. Cooley Law School. Stupak has been a public servant most of his adult life, as a police officer in Escanaba, a Michigan State Trooper and as a Michigan State Representative from 1989 to 1990, representing Menominee, Delta, and Dickinson counties (that's the far west of Michigan's Upper Peninsula for you non-Michiganders out there). Stupak is a member of the powerful House Energy and Commerce Committee, and is also active on issues related to the protection of the Great Lakes, rural telecommunications, and pro-life issues.
Congressman Stupak wrote this in the official Jefferson-Jackson Day program:
I am proud to welcome my choice for President of the United States, Senator John Edwards. John has dedicated his life to standing up for working men and women. Now, John Edwards is running for president because he wants to build an America that lives up to its promise - one where we all share in prosperity at home and one that shows honest moral leadership abroad. With your help, we will elect John Edwards President of the United States.
Stupak spoke for about 9 minutes, I caught the last 7 minutes:
And then came the keynote speaker who we drove so far to see - John Edwards.
He spoke for about 40 minutes. If you can't watch/listen to the entire speech, read the rough transcript (which is largely based on LiberalLucy's live-blog that I've slightly modified after giving the speech a second and third listen).
John Edwards speech at the Michigan Democratic Party Jefferson-Jackson Dinner, 21 April 2007.
Thank you, Bart and thank you for your support. Thanks to chairman Brewer, Carl and Debbie and all members of the congressional delegation and the leaders of the state house and senate. And Governor, we're especially proud of all you've done. I want to say a personal word if you'll allow me. I appreciate your best wishes to Elizabeth, we thank you for your love and support, it means a great deal to us. I watched the tragedy unfold at Virginia Tech and it hit home. It was very hard for the two of us not to feel this loss personally because we lost one of our children, so we felt what the parents of those precious children were going through. I said at the time and I believe it then and now - when you have extraordinary people, like you here, support with us, it really says about what matters here for us in this life, in this country. It really means something that we have national community. That we're there for each other. That this idea that if something goes wrong, you're on your own, that's not America ... that's not who we are ... we're better than that. And you can see that in the response of the American people to the people of the Gulf after Katrina and after the Virginia Tech tragedy. America is about what we do for each other, unfortunately that's not the case with President Bush when the hurricane hit, but you can see what America is about.

I just talked with Elizabeth before I came up here. She asked me to say something to you. That while we appreciate all the kind words people have said, we should all remember, that there are millions of women who have been diagnosed with exactly what Elizabeth is going through right now. I've met many women here tonight who are suffering just as Elizabeth is, but without the attention and fanfare Elizabeth and I have. But they get up each morning and go to work, get the kids to school, and make dinner for their kids, and they are incredible women. They are what we're about.

We have important things to talk about tonight. On a personal level, if I weren't running for president, and I were looking for what kind of human being that we need desperately in the White House, what we need is someone who will be honest with us, somebody who is a good and decent human being, somebody (and we know this happens everyday in the Bush White House), who doesn't do what is politically expedient, but always does what's right for America. We need to feel trust in our president again, even when we disagree with them. You're always going to have disagreements with the president, but you want to feel good about your president, that they are doing the right thing. That trust-bond has to be restored. It's about America having faith in and the rest of the world believing in our president.
The idea that we need to form and nurture a sense of patriotic community-mindedness in America is the number one reason why I support John Edwards. He's for a serious ideological struggle with the hegemonic discourse that was seized by the Reagan Right in the early 1980s.
But first I want to talk about the world because I believe the next president has a huge responsibility and difficult challenge. Within the first few weeks, the President of the United States needs to go out to the world. The world needs to hear from our President - not just with leaders behind closed doors, but to the people of the world. They need to hear that America is not a place, America is an idea. And that idea is equality ... equality and diversity. That's who we are, when we are at our best. I mean every kind of diversity. In America we don't just tolerate diversity, we embrace it, don't we? At our core, it is who we are. But the world doesn't believe that right now. I've spent a huge amount of time since the last election traveling the world and the rest of the world believes that we are at war with the Muslims. That cannot continue. They think we're a bully, they think we're selfish. They don't think we care about anything except ourselves. That has to change. And it means America has to do things that don't appear to be in our own short, self-interest.

I'll give you a couple of examples tonight. The first example of what America needs to do so the world sees us [for who we are].... As Carl and Debbie know, we live in a dangerous and chaotic world. The only way the world can be stable is if a responsible America is force for that the world to can rally around. When the crisis comes, the world has to rally around us. But for that to happen, the world must see as a good place, with trustful leadership. By the way, when I'm the president, one of the first things I'll do is to close Guantanamo.

We should be the light. We should be the country that everybody says "We should be like the United States America. We admire and respect the USA."

Right now there's a genocide going on in western Sudan, in Darfur. 100,000's of people slaughtered. Women raped, villages destroyed, etc. Mostly by the Janjaweed militia, supported by the Sudanese government. The Sudanese government is engaged in genocide. Let's see this through the eyes of the rest of the world. This is what they see - years ago, the most powerful country on the planet declared a genocide was happening years ago, but then they stepped back and watched it continue.

Today there are thousands of children being born in Africa with AIDS. Why? Because their mother doesn't have access to medicine worth $4. Thousands will get AIDS. And the richest nation in the world stands by and watches it happen. Just $4. What would you think of us? We need to do something. We are better than this. We need to show the world our better angels. It is not enough to just be strong. Of course, we need to be strong, but the world needs to see that we care about not just about ourselves but understand the responsibility we have to humanity.
Edwards is right here, we can't preach to the world anymore, not until we do some basic penance. For more on Edwards' global vision see his speech Transformational Change For America And The World, given on 15 March 2007 in New Hampshire.
And then, there's the albatross that we wear every single day - Iraq. I don't have a complicated view of this. This is very simple, American needs to leave Iraq. Elections have consequences. There's a reason the Democrats won in 2006, the American people want a different course in Iraq. And the Democrats in Congress did just what the American people called for. Carl Levin and Debbie Stabenow were re-elected and put in charge - because people want out of Iraq - now. They sent a bill to the President ... and laying ... That is exactly what the American people called for in this election.

I want to be very clear. You can see right now where this headed.... By the way, this is not the first surge Bush has called for in Iraq. When the Iraqi Parliament is attacked inside the Green Zone ... the surge is not working. This bill is going to be submitted to George Bush. If George Bush veto's it - then it is George Bush who is not funding the troops, not the Democrats in Congress. We need to stand strong and firm, absolutely clearly. Bart mentioned this, I voted for this war, and I was wrong, and, unfortunately, I have to live with that. You have two great Senators who voted against it. They cast the right vote, I cast the wrong vote. America has got to be leaving Iraq. We need an orderly transition out of Iraq. And we need to engage the Iranians and Syrians, directly, into helping stabilize Iraq. Both those countries have an interest in a stable Iraq, they don't want economic instability and refugees pouring into their states. Iran is a Shiite country in a Sunni dominated world -- the last thing they want is a broader Middle Eastern conflict. It is really important for us to understand that Iraq is enormously important. Because men and women are dying there today, and we are now at $500 billion and counting in Iraq.

We're going to be leading this country and Iraq is important, but we have to understand that Iraq is a part of the bigger puzzle. Which is: how can America lead? How can we be that example for the rest of the world wants and respects? It's not just what we do over there - it's also what we do here. We live in a country that is emitting 25% of the world's greenhouse gases with just 4% of the world's population. How can we ask other countries to do their part in when we're not doing ourselves. The global warming / climate change issue is a crisis today. If the temperature on the face of the earth goes up, it could mean mass migrations, not enough food, not enough water. America has to lead and we have to clean up our house first. We have to demonstrate that we understand our responsibility to ourselves and the rest of the world.
John Edwards' Plan To End The War In Iraq
Part IV: On Michigan, Trade and Jobs
And I want to talk specifically on healthcare, on poverty, on strengthening the middle class. But first I want to talk about Michigan.

Here's the problem - you have an extraordinary Governor, great senators, great state leaders, but you've had no partner in the White House. He's been not just not helping, he's been actively hurting Michigan while he's been in office. This is the place that taught America what the American workers was capable of. This is the place where the middle class began in the United States. This is the place that taught us what great manufacturing was for America and for the rest of the world. And this is the place that taught America and the world what collective bargaining and a strong union can do for working people, to give them a decent chance to grow and strengthen a middle-class in America. God bless y'all for what you've done. (first standing ovation)

And in the midst of all this difficulties (Jennifer, I'm going to talk about all four of your things), I see great possibility. But it will require us making some real changes. Let's talk about the very first issue the governor mentioned - trade. Listen, free, unfettered trade with no standards - CAFTA, NAFTA, Bahrain - we've seen what the consequences of that are not for just for the American workers but for the world. Now they're talking about a new trade agreement with South Korea. From what I can tell, it's the same old deal - no meaningful standards, no enforcement mechanisms - and I'm announcing tonight - I'm against this trade deal and we need to stand up against it. Listen - they put workers in South Korea in jail by the thousands because they stand up for decent wages and healthcare. Seems to me, given what we've seen in Michigan, ... don't we want cars in sold in the United States to be Chryslers and Fords? We need trade that works for American workers. There need to be real environmental standards, real labor standards, and a way to enforce those standards. There's nobody in this world that doesn't want trade - but we need trade that works.

I look here at what's happening here in Michigan - and I compare it to what happens in my homestate of North Carolina. This is a very personal part of me. Some of you may remember I'm the son of a mill worker.... I think I found a way to put it into every speech I made ... for several years. I watched what happened in North Carolina where the textile industry disappeared, when trade hurt our city and our mill. I've watched what happens when a mill closes. It's not about loss of jobs, it about dignity and respect for men and women who worked their entire lives, who made this country, who built it. America was not built on Wall Street - it was built in manufacturing plants by great workers all over America, here in Michigan and in North Carolina. I saw what happened when that mill in my hometown closed, you could feel the life being pulled out of the community. In North Carolina, we've made a transition. We've got three great universities (and you have great universities here ... that play some pretty good basketball too by the way [he can't be thinking of Michigan]) that we have used as a base to create new high-tech and bio-tech industries and an enormous amount of new jobs. Now the question is what do we do to revitalize our country. I think we have a huge opportunity to fix this here in Michigan if we do something about global warming.

Here's what I think we need to do about global warming. We need a national cap of greenhouse gas emissions and those caps should be lowered every day. But we ought to auction off the right to emit carbon under the cap. By the way I think we can reduce our greenhouse gases by 80% by 2050, it's an aggressive goal, but an achievable goal. The $30-40 billion generated can be used to completely transform the way we use energy in this country. We use 22 million barrels of oil a day, 12 million of those are imported. We can't sustain that. It has to change to grow the American economy and create jobs here and all over Michigan. You have extraordinary talent here in Detroit and in the state of Michigan - you know how to produce, you have engineers and skilled, well-trained workers. Suppose we made this the hub for transforming energy here all over America. Suppose, we put billions of dollars into new technologies. We need to go about transforming our cars into fuel-efficient cars. And they ought to be built right here in Michigan and America by UAW workers. (second standing ovation). So I think there are great opportunities, but you need a president who partners with the leaders you have in Michigan and that believes that you can do great things in Michigan. I believe this.

We grew up believing in hard work, and I think Michigan has extraordinary capability and capacity to do that and help change the world. And America needs to be reminded of what an historic role this state played in the building of our economy.
Part V: Economy, Healthcare, Poverty, Unions
I want to talk about another issue that is related to that. I'm very proud of the fact, that I am the only candidate that has a specific, truly universal health care plan. You all know the numbers, 46-47 Million people without health care, insurance premiums skyrocketing - we have a dysfunctional health care system in America. Health care is not what our workers need to be negotiating about.

I'm proposing that every employer be required to cover their employers or pay into a fund. That we set up a system of health markets. We give people the choice between private and government funded health care - Medicare+Plus. There are a lot of people that believe we should have a single-payer system, but I believe the American people ought to have the right to choose.

We need to fill all the gaps in health care disparity. Complete mental health parity, preventive care, chronic care, long-term care, dental care, vision care - all covered. We subsidize, we bring the cost of health care down for everyone. We require lowering administrative costs. We spend more money on health care than any other country in the industrialized world and we get one of the worst products out the other end. You need to be able to take your health care plan from one job to the next job. We require by law that every single citizen have health care, by law. It is a truly universal healthcare plan for all Americans from birth to death.

Other candidates may come through Michigan they might say, we'll give you universal healthcare, and change the way we use energy, and revitalize Michigan and the auto industry, and grow the middle class and eliminate the deficit. Yeah, right. We have to be honest about this - this is going to cost money. My health care plan costs $90-120 billion dollars. The way we fund it is by rolling back Bush's tax cuts for the those who earn over $200 thousand a year.

I also want to speak about an issue that is near and dear to my heart. I have been running a poverty center at the University of North Carolina. I think it says something about the character of America by the way we take care of the poor. 37 million Americans worry about how to cloth their children. We're better than that. And there are things we can do. One of the best tools is fighting in poverty is a good job and decent wages. The greatest anti-poverty movement in the history of America is the organized labor movement. Manufacturing jobs weren't great jobs before, it was the unions that made them great jobs. Unions help keep America strong and employed. What are we going to do to make it easier to get organized in America. We need comprehensive labor reform law here in Michigan. Any worker in America needs to be able to sign a card to join a union (third standing ovation)

And, before you sit down - we also ought to ban the hiring of permanent replacements for workers on strike. (fourth standing ovation)

I've been all over America helping to organize workers into unions and walk the pickets with striking unionists, over 100 events. I do it for a reason, I think it is absolutely crucial that we strengthen the power of unions and the right to organize, to have a level playing field. I think this is important for the prosperity for America. I think we need a president who can use their bully pulpit to explain the history of the union movement here in America.

There are many things we ought to do. I helped others in Michigan work on strengthening the minimum wage. Things like having a decent living wage, access to college. But Bush is making it harder for kids to go to college. We need to be the best, most smartest educated work force in America.

Every kid needs the opportunity to go to college. I created a College for Everyone program in rural North Carolina. If the kids there graduate from high-school and work hard at least 10 hours a week, we pay for their college education. We don't just give it to them, we make them work for it. And that's a good thing - the work-ethic is good and they won't graduate with so much debt. It's about creating opportunity. You are more likely to go into bankruptcy than a divorce here in America. Half of bankruptcies are caused by medical costs.

The economy isn't great. Last year, the top 300,000 earners in America earned more than the bottom 150 million earners. We cannot sustain this. This is unhealthy, it's not good for our democracy. We need to lift people out of poverty, strengthen and grow the middle class here in America, create jobs. We know what we have to do.
The Edwards Plan for Universal Healthcare
When I talk about America being a great example - is there anyone here who thought that the US was the only one who saw those pictures coming out of New Orleans? No, the whole world saw it and one newspaper in Europe called it "the shaming of America." Bush and Cheney tell us their going to keep us safe and we should hide in the corner, but we are at our best, when we have a little guts, backbone, and courage. Our Party is at its best when we are leading, doing what America needs us to do. And by the way, I want to say a word about a man who embodies everything I believe in and someone I've admired for a long time and I'm very proud he's my campaign manager because he's smart and a great human being - your own David Bonior. (fifth standing ovation)

The last thing I want to say, I'm going to go back to the personal. We had this movement when the diagnosis came when Elizabeth (who is the finest human being I have ever known) said she had to do what was best for the country. I guess the thing I want to say, the very reason you're here shows how much you're willing to do for your country. There's so much more that we can do. The next president can't solve all our problems alone. We all know that. The strength in America is here, in this room. There is so much capacity to do so many great things among the people here right now. The question you need to ask yourself: what are you going to do? what are you willing to do? how much do you love this country? Because there is nothing we can't do together. But if we stay home and hope that the next president is going to solve it all our problems, nothing will change. It is time for Americans to be patriotic about something other than just war.

We have a great opportunity before us. I'm so relentlessly optimistic about what we can do if we do it together. We can make America the country of the 21st century. All of us have to do it ... together. We have to take action and responsibility for this country we all love so much. If you want to see America living in a moral and just world - we have to do it, all of us together.

God bless you Michigan Democrats, thank you for your support for myself and Elizabeth and our family. Thank you all very much! (sixth standing ovation)
I especially like at the end of the speech where Governor Granholm is nodding her head in apparent approval at Edwards' message and the delivery!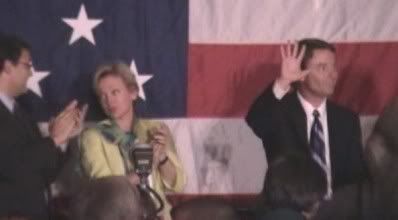 After the speech I was able to have a few words with Edwards, get my picture taken with him and get my copy of Four Trials signed. I also had a chance to slap David Bonior on the back and tell him how happy we are that he's John's campaign chair and how we're counting on him "to get John the win."
And that was it, we drove home, listening to The Ramones most of the way.
Here is a list of some of the media stories:
Kathleen Gray, John Edwards: I'd invest billions in Michigan, Detroit Free Press, 22 April 2007
David Eggert, Edwards opposes trade pact with S. Korea, Associated Press, 22 April 2007
Charlie Cain, Edwards speaks to Detroit Democrats and calls for U.S. to leave Iraq, Detroit News, 21 April 2007
And for what John Edwards was doing on the morning of the 21st, see Josh's vlog from Iowa.
Crossposted at Michigan for Edwards and MichiganLiberal and DailyKos.
Tags: 2008 elections, Bart Stupak, Jennifer Granholm, John Edwards, Michigan, president (all tags)