The Coming Democratic Earthquake Part II: Can the Millennials Save Us From Ourselves?
by Phil In Denver, Wed Jul 02, 2008 at 08:55:34 AM EDT
cross posted from DailyKos
Well Granny calls us purity trolls, PsiFighter says we should just grow up, Olberman is telling Obama how to do his job, to read this blog lately you'd think the entire progressive movement is about to crumble to dust because our latest patron saint of progress has declared a measure of independence from us, the "righteous" left, or perhaps the "self righteous" left is apropos.
From the perspective of a generational researcher it all comes off like some kind of self indulgent comedy, like so many brilliantly argued theses on how many angels can dance on the head of a pin. We become trapped by our own ideology, shouting into the echo chamber that is our own little corner of the blogosphere.
We wring our hands in fret, some because our once saintly anointed leader has spurned us, and others because now that we have entered meltdown mode he is surely to crumble amidst the loss of our once united support.
Grief and Fear
Some of us can't get past our sense of grief over the notion that we have been abandoned by Obama's seemingly sudden rightward shift. And so we threaten to take our toys and go home. Others cower in fear because we believe Obama has lost the netroots so all must be lost. Still others descend into despair because of a few ill chosen words by a rare and otherwise highly admired general.
The fear, the dread, the trepidation may all be for naught. If my generational research has taught me anything, it is that the tiny fraction of voters most ardently devoted to progressive purity are at this point virtually powerless to alter the course of this upcoming election. Our anger, our fear, our indignation will in the end amount to very little in the scheme of things.
Idealism vs Pragmatism
You see, we on the leftward edge of the blogosphere are a highly idealistic lot. And while this in and of itself is not a bad thing, it is a very different thing from what motivates the largest generation in US history. Millennials certainly have ideals, but they are not willing to sacrifice themselves on the altar of utopian chastity for them. They are in fact, a rather pragmatic group.
This might explain why they don't seem to be attracted to the blogosphere. The fact is, they communicate, organize, and come to consensus through other types of new media, particularly through social networking and viral video.
Dkos Demographics vs Millennial Demographics
Now that Millennials have grown from 10% of the voting age population in 2004 to 17% in 2008 their influence is likely to be felt in a profound way. As I diaried last month Millennial turnout is growing dramatically as a percentage of voting population.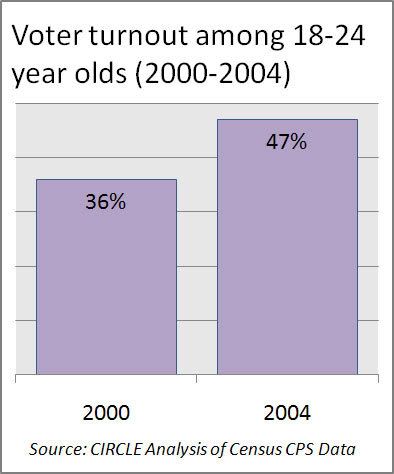 Should the pattern continue, and there is no reason to expect it to do anything but, the turnout ratio for Millennials should grow even further this year.
If we examine the age distribution from within the microcosm that is DailyKos we see that according to demographic polling courtesy of DrSteveB the subset of Millennials within the the 15-29 age group make up only 21% of the Dkos population, whereas the typically more idealistic Baby Boomers here make up 43%, more than twice the percentage of Millennials.
But let's take a look at those same age groups within the general population (source US Census Bureau). Here we see the same age groups distributed very differently. Millennials in the 15-29 age bracket make up a somewhat larger chunk of the population at 26% up 5 percentage points from 21% on Dkos, but Boomers only make up 32%. A rather significant 11 percentage point drop from the 43% proportion on Dailykos.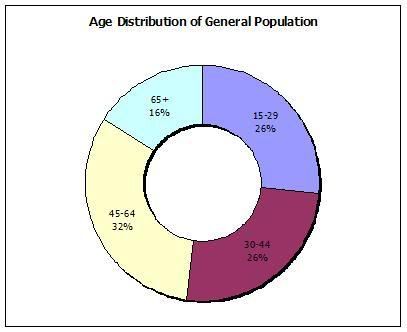 Finally, let's take a look at those same age groups as represented on Facebook, the social networking site of choice for adult Millennials totaling some 27 million registered users in the US. Baby Boomers comprise a mere 3 percent of Facebook users, even combined with Gen-Xers both groups only amount to 15%, whereas Millennials make up a whopping 84% of the users there.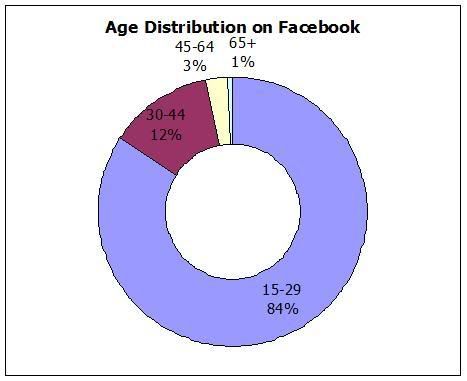 Clearly Millennials are far more attracted to social networking than are Baby Boomers and Gen-Xers, and far less to the blogosphere. Indeed, during a series of interviews I did with Millennials at the Colorado state Democratic convention, 100% of those interviewed were frequent if not daily users of Facebook, Myspace or both. Conversely, only 29% reported reading any kind of political blog and only one of the seven I interviewed reported ever actually participating in a political blog.
If you think about it, it makes sense. The blogosphere is a place where idealism and pontificating abound. This is not what motivates Millennials. Rather than blogging, Millennials are far more interested in social networking, in part because it represents a method of keeping up with each other in a more direct and personal way. This lends itself to the pragmatic realities of real grassroots organizing, rather than the just talking about it that abounds here in the blogosphere. They are about action not words, at least not in the same sense as we tend to be here.
Consensus and Collaborative Decision Making
They are not as interested in parsing the fine points of a specific argument than they are in judging an entire package of ideas and either accepting it in the main or rejecting it outright. In an ironic twist, they seem to benefit from the wisdom of the masses. That may sound strange, but according to Winograd and Hais, as demonstrable through the success and accuracy of Wikipedia this kind of collective decision making is very nearly as accurate as well sourced professional journalism. And it benefits from a lack of skewing through the lens of an ever increasingly self-interested corporate media.
From Millennial Makeoverpage 238 (on collaborative editing of Wikipedia)

While any page can be added or edited by anyone who wishes to, more than 75,000 volunteer editors, using a completely transparent "edit history" for that page, police acts of vandalism or questionable insertions. The result is a product whose size dwarfs the 120,000 subjects available from the experts recruited by the editors of Encyclopedia Britannica. And, according to at least one study, the wisdom of the group is about equal to that of the experts. Wikipedia's error rate is 3.9 errors per article compared to 2.9 for Britannica (McNichol 2007).

In a recent Obama campaign meeting in Arapahoe county, the campaign staffers dispatched to conduct the meeting informed us that Colorado would be receiving about 130 Obama "fellows" whose job it would be to organize at the grass roots level, and that these were mostly young people who were expert in the use of social networking technology. Clearly, the Obama campaign knows which side it's bread is buttered on, and though it may disappoint more than a few people here, it's obviously not with us.
Obama's rise has been no accident, it is and has been a well planned, carefully coordinated, and skillfully executed effort, the bedrock of which is comprised of politically engaged Millennial activists. That's not to say that older volunteers are not also an important component, indeed we are. But make no mistake, a lot of the heavy lifting within the campaign is being taken on by the youthful fellows and staffers.
They are energized, engaged, and they actually know what they are doing. They are not about to let this thing slip away. They won't be stopped or even slowed down by a few cranky middle aged political purists, nor deterred by a corrupt republican party or a complicit media.
Tags: 2008, Baby Boomers, Barack Obama, blogging, Consensus Building, Millennials, Social networking (all tags)