The Coming Democratic Earthquake
by Phil In Denver, Mon Jun 16, 2008 at 07:30:48 AM EDT
(cross posted from Dailykos)
William Straus and Neil Howe broke social science ground in 1991 with the fist in a series of books studying American generational history, this book "Generations", traces America's generational history back to 1584 and establishes their theory that US history can be fairly accurately framed as a roughly 80 year repeating cycle of 4 distinct generational groups.
The theory postulates that each generation has certain characteristics which distinguishes itself from the other generations in it's cycle. Among those distinctions are social attitudes, behaviors, and politics.
This theory has recently been advanced even further by the Morley Wiongrad and Michael D. Hais book "Millennial Makeover" which focuses on the millennial generation sometimes referred to as Generation Y.
The Generational Cycle
The book makes the case that the huge millennial generation which is coming of age will reshape the face of American politics in a dramatic sea change that will last for the next 30-50 years.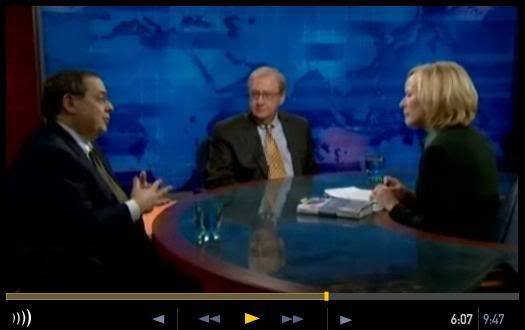 As Judy Woodruf lead off with, young voters have been turning out in record numbers. This is no accident, there are fundamental differences in the way millennials see the role of government and their own roles as citizens from the way Generation X and Baby Boomers see them.
This is at least in part due to the fact that each of these generations belongs to a different part of the overall generational cycle. The four groups in the cycle being:
From Millennial Makeover pg.25



"Idealist." This is a "dominant and inner-fixed" generational type. Idealists are reared in an indulgent manner and are driven throughout their lives by their deeply held values. Baby Boomers are the Idealist generation in America's current Millennial generational cycle.



Idealism in this generation can cut both ways, and indeed in the Baby Boom generation we see two strongly opposing viewpoints which can rarely come to agreement on major policy issues. It was the Baby Boomers (as a voting block) who marched in the Civil rights movement, the Women's movement, and of course against the war in Vietnam. But it was also Boomer politicians, strategists, and operatives such as Paul Wolfowitz, Karl Rove, and George W. Bush himself who gave us the neo-conservative agenda that we see finally playing itself out today. It is in reaction to the gridlock that inevitably comes about during an Idealist generation that we see the current fixation on so called bi-partisanship. As a political force, Idealists in the current cycle are roughly evenly split in the electorate, which again contributes to legislative gridlock as it is very difficult for either party to gain (and retain for any length of time) a significant majority in all branches of government.
contd.



"Reactive." A recessive generation that, because of its unprotected rearing, is more often than not criticized and condemned; it tends to become alienated, risk-taking, entrepreneurial, and pragmatic in adulthood. In the current generational cycle, Generation X represents the Reactive type.



True to their description, alienated Gen-Xers tend to be the weakest in terms of voter turnout.
contd.



"Civic." A generational type described as "dominant and outer-fixated". The members of this generational type are reared in a highly protected manner so that an orientation to societal challenges, problem solving, and institution building marks their adult lives. The Millennial Generation is the Civic generation of the current cycle, as the GI Generation was of the previous one.



Unlike the Boomers, Millennials are highly partisan, but believe strongly in rule by consensus, meaning that they are willing to work hard for the benefit of the group, hence the title of "Civic" generation. Unlike the Gen-Xers, Millennials turn out in disproportionately large numbers as will be discussed in more depth later.
contd.



"Adaptive." Another "recessive" generation type, but one raised in an overprotected and suffocating way, which tends to make them risk averse, conformist, and inclined toward compromise. In the current generational cycle, the members of the Adaptive Generation are children born since 2003 and still too young to be in kindergarten. They have not yet been given a specific name. In the previous generational cycle, the Silent Generation born from 1925 to around 1945, the only generation in U.S. history to have failed so far to elect a president from its own generation, was the Adaptive type.



Party Identification and Partisanship
While researching their book (prior to 2008) Winograd and Hais pointed to polling suggesting Millennial preference for the democratic party at a rate of about 1.75:1,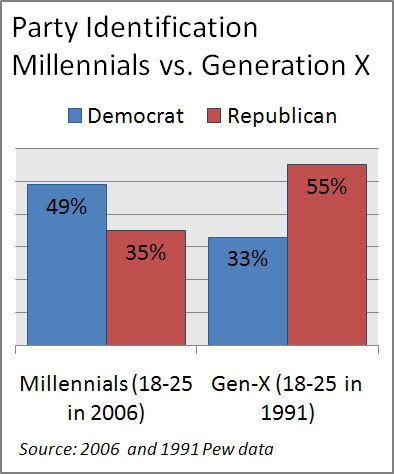 but since then it appears this margin has increased. According to a March 2008 Pew Survey, Millennials are now identifying with democrats at a rate of over
2:1
.
Additionally, Millennials seem to be much more partisan than previous generations. According to Winograd and Hais, during the 1980's and 1990's, about 70% of American voters considered the two main political parties to be fairly to very similar. Conversely, in 2006 38% of voters saw a great deal of difference between the parties. This represented a shift of over 15% from the late 1980's to early 1990's. This change was led by Millennials, who during the 2006 congressional elections voted overwhelmingly democratic, by a whopping 22 percentage point margin of 60% to 38%. Support for Democrats among all other generations combined leaned towards democrats by only a 1.2:1 margin. Clearly, Millennials are by far the most partisan generation we have seen in decades. This will play a more significant role as time goes on, because at over 90 million strong, Millennials by any measure are the largest generation in American history.
As they mature into the electorate, the need for bi-partisanship and compromise will rapidly decline, giving way to an ability to rule by consensus as opposing (i.e. right wing) viewpoints will be unable to attract sufficient support to impact the legislative process. They will clearly be running the show, and in fact this may already have begun.
Millennial Turnout
The 2006 elections can be seen as the first shot across the bow. By 2010 about half of all millennials will have entered the voting populace, and unlike the Gen-Xers before them, Millennials believe in the power of government and democracy, and they do turnout to vote (pdf).
In 2000 the 18-24 year old age group turned out at a rate of 36%, that year, only a handful of Millennials could vote, those who were 18 years old by registration deadlines in their respective states. But in 2004, which was comprised mostly of Millennials, turnout among the 18-24 year old group rose to 47%.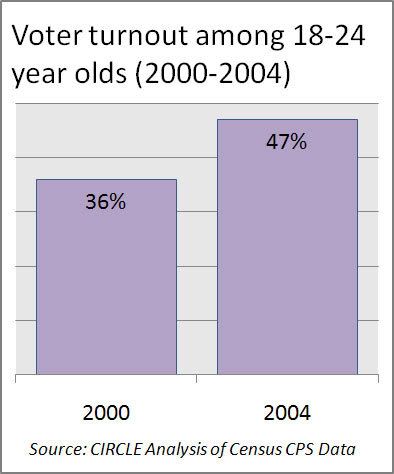 source data from the Missouri Census Data Center
Millennials as a percentage of the overall voting age population have been increasing dramatically. Note the growth in these two charts.
Millennials as a percentage of voting age population 2004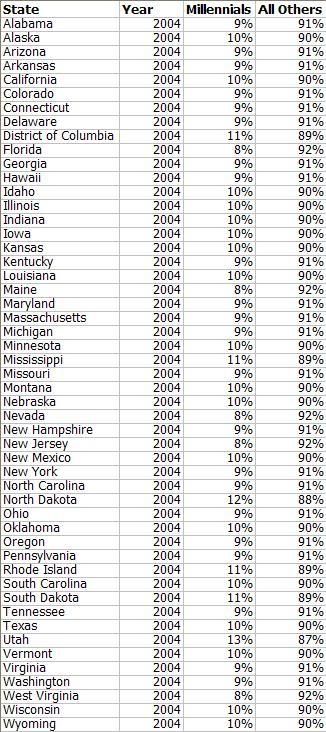 Millennials as a percentage of voting age population 2008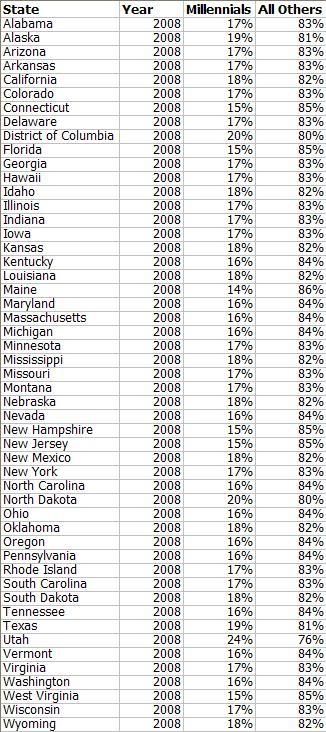 On a state by state basis, Millennials have grown from an average of 10% of the voting population to an average of 17%, or a 70% cycle over cycle increase. They are gradually replacing the Older Generations which are traditionally considered more conservative with what is shaping up to be the largest and most progressive voting block in modern history.
Swing State Analysis and Projection
During 2008 less than half of the millennial generation will have reached voting age, and yet they seem already to be having a significant impact. By examining the rising Millennial turnout overlaid with party preference data based on recent voting patterns of this group, it is possible to construct a reasonable projection of their impact on the 2008 presidential election. For the purposes of practicality, this analysis is constricted to one major swing state, but the same dynamics should be applicable across the board.
Using the 2004 election as a baseline, let us look at a major swing state Kerry lost in that election and compare it to how that same state might shape up in 2008 with the expanded Millennial participation that is expected. The state we'll look at is Ohio. This is a state that was very close in 2004 and is currently showing very close polling as well.
Let's start with the electoral map of 2004


George W Bush won that election with 286 electoral votes to Kerry's 251, and a total popular vote margin of over 3 million votes (62,039,073 to 59,027,478)
Now let's take a look at Ohio specifically. Bush won the state with a margin of 136,483 votes out of 5,455,811 or a percentile win of 51/49.
That year the number of Millennials in the general population for the state of Ohio was 794,445. The total voting age population of the state that year was 8,650,929. Nationwide 47% of eligible Millennials turned out to vote that year. Assuming Ohio turnout was not dramatically different than the rest of the country:
794,445 X 47% = 373,889 Millennials voting that year in Ohio
If we then look at the eligible population of Millennials in Ohio this year, we see that 1,424,245 Millennials will be eligible to vote out of a total voting age population of 8,707,971 or roughly 16%.
Conservatively, we can expect Millennials to turn out in at least the same proportion as they did in 2004. This would render a total Millennial voting bloc for the state of:
1,424,245 X 47% = 669,395 Millennials expected to vote in 2008.
Comparison of Eligible Millennial Voters 2004 vs 2008 in Ohio

If we then assume that Millennial partisanship remains at 2:1 Democrat vs Republican then we can expect a breakdown of 446,263 to 223,131 Democrat over republicans, or a net plus of 223,131 votes for the democratic candidate. All other factors being equal, this would be enough to swing the state to the Democrats (3,105,926 to 3,019,278).
This analysis can't really be extrapolated to every swing state in the same way, conditions overall seem much more favorable towards democrats in several important swing states than they were in 2004. Colorado for example is trending heavily democratic in polling, whereas Kerry lost that state in 2004. But the thrust here is that the Millennials are likely to provide an additional bit of oomph in close contests that current pollsters may not be taking in to account. Generally Millennials are more difficult to poll as many only have cell phones. Most political pollsters do not poll people with cell numbers. Additionally, many live in group environments such as college dormitories, fraternity houses, or group homes. As a result, telephones are not generally listed in every name in the environment.
The Millennials surprised in 2006 and 2004, there is no reason to believe that they will not surprise in 2008 as well. Additionally, the effect we are seeing in 2008 is only the tip of the iceberg. The proportion of Millennials will only increase dramatically over the next decade. If indeed Millennials are able to tip the country towards the democrats this year, as every expectation indicates, then look for a sustained shift in direction for decades to come.
Stay tuned, next time we will look at Millennials use of social networking in the political process.
Tags: Democratic Realignent, Millennials, Politics (all tags)