Edwards for President: Campaign Highlights Roundup!
by NCDemAmy, Mon Jul 09, 2007 at 08:10:51 PM EDT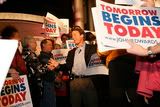 Six months have passed since John Edwards' announcement for his run for the Presidency. With six months to go until the first caucus in Iowa, we are half way there until the voting begins! Following is a general overview of the notable events that have paved Edwards' Road to the Whitehouse.
ANNOUNCEMENT TOUR KICKS OFF IN NEW ORLEANS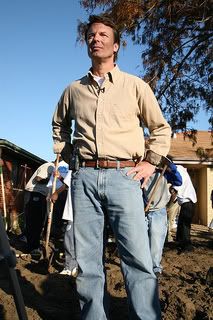 John Edwards made his announcement in New Orleans, from the lower Ninth Ward in the backyard of a Katrina victim, who had been taken by a private contractor. The previous day, John Edwards and OneCorps members participated in a community service project, at the home of this Katrina victim [Vlog: Live from New Orleans with John Edwards].
John Edwards' kick off was anything but typical. He didn't hold the usual large high profile rally, with all of the glitz and glamour, but spoke to reporters and bloggers from the Katrina victim's backyard about the importance of all Americans taking action now, calling on all of us to "be patriotic for something other than war."Local students, who had participated in OneCorps service project the day before, proudly stood with John Edwards as he made his announcement.
New Orleans
VIDEO: Edwards Announces his run for the presidency in New Orleans
Not only was the substance and the setting of Edwards' announcement non-traditional, but it embraced the "new media." Rocketboom was on location and bloggers were embedded in the campaign for the Announcement Tour.
This set the tone for the campaign as it continued to maintain the focus on the issues that are weighing heavily on our country: The War in Iraq, Lack of Universal HealthCare, 36 Million Americans in Poverty, a Weakening Middle Class, and Global Warming. And, bloggers, the new media, have been fully brought into the fold the Edwards campaign, being given the same press access as the Mainstream Media. This precedent set by the Edwards campaign is a milestone in how the netroots are involved in Presidential campaigns and the democratic process in general.
Iowa
Following the announcement in New Orleans, it was off to Iowa where the Town Hall was livestreamed via webcast. Enthusiastic supporters greeted John Edwards with standing ovations as he returned for the first time, as an offical candidate for President.
Edwards' support in Iowa is unparalleled. In fact, he has not only retained but built up his deep support in Iowa from his near win there in 2004. It's been said, that Edwards has personally met 85,000 of the 90,000 Iowa caucus goers. His campaign has offices in all 99 counties in Iowa. Edwards continues to poll number one in Iowa in the large majority of polls. As we all know, Iowa will play a critical role in determining the Democratic candidate---the last 6 out of 7 candidates who won Iowa, won the nomination. John Edwards will be the lucky 7.
New Hampshire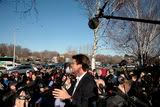 After the Iowa Townhall, it was off to New Hampshire where an overflow rally was held in the parking lot, due to the large crowd. Edwards held a Meet & Greet with Bloggers, as he often does while on the campaign trail. Since that time, Edwards has been to New Hampshire a number of times for TownHalls and House Parties as has Elizabeth Edwards, who in fact, is there this week for several house parties. The Edwards campaign is taking New Hampshire very seriously. Recently, they expanded their field staff.


Nevada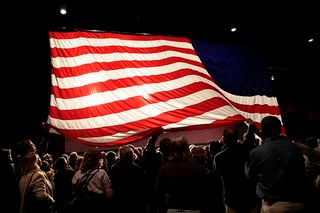 Following New Hampshire, Edwards traveled to Nevada where there was also an overflow crowd. Edwards has strong support from the Unions;his work for the Unions exceeds any of the presidential candidates'. Moreover, Edwards doesn't just talk about strengthening unions in union halls, he talks about it everywhere.
North Carolina
VIDEO: BlueNC Bloggers at the NC Homecoming Rally
The tour wrapped up in Edwards' homestate of North Carolina where thousands came out to welcome John Edwards home. Edwards has been endorsed by all North Carolinian Democratic US Congressman and a number of North Carolinian Civil Rights Leaders and Community Activists.
Following the Announcement Tour, Edwards has been campaigning around the country speaking out against the occupation of Iraq, calling to bring the troops home and unveling his detailed plans to restore our moral dignity around the globe and at home.


IRAQ
Restoring America's Moral Leadership in the World

America's leadership role in the world has grown out of our compassion and moral strength, as well as our unparalleled economic and military strength. We can be proud of our long history of using our strength to fight for the freedom of others, but our standing in the world has been badly tarnished. America can once again be looked up to and respected around the world. The first step is by immediately withdrawing 40,000-50,000 troops from Iraq, with the complete withdrawal of all combat troops from Iraq within 12-18 months -- allowing the Iraqis to assume greater responsibility for rebuilding their own country.
Edwards had been calling to bring the troops home, for over a year before his announcement and again addressed the issue of Iraq in his first major speech following his announcement, "Realizing the Dream," delivered at Riverside Church, in honor of Dr. Martin Luther King, Jr. Edwards spoke out passionately against the escalation of the war in Iraq and the shameful poverty both here in the US and across the globe.
Edwards called on the people to "break our silence," "accept our own responsibility" and to lead a "revolution of values" emphasizing that this the heart and soul of realizing the dream, as there does come a time, "when silence, is betrayal."
We have to be the change that we want to see in the world.
VIDEO: Riverside Speech, "Realizing the Dream"
Edwards has continued to show "agressive leadership on ending the war in Iraq" by demanding Congress stand their ground on the capitulation bill and keeping the pressue on, to end the war.

"We need to stand our ground against this president. You cannot negotiate with him. Congress should send him the same bill back to him again and again until he realizes he has no choice but to start bringing our troops home. The funding power is the only way Congress can force Bush to end the war.
UNIVERSAL HEALTH CARE
In early January, in his speech to the DNC, Edwards' demanded that the "Democratic party finally quit talking about access to healthcare, when we know what that means: not universal healthcare. He further noted that "we cannot allow America's HealthCare policy to be set by big insurance companies and pharmaceutical companies."
VIDEO: DNC Speech-Edwards on Universal Health Care
Soon thereafter, Edwards unveiled his plan for Universal Health Care. The only truly universal healthcare plan of any top tier candidate.
Edwards' plan for Universal Health Care has been touted as a "smart, serious proposal. It addresses both the problem of the uninsured and the waste and inefficiency of our fragmented insurance system. And every candidate should be pressed to come up with something comparable" (Paul Krugman).
The plan will "transform America's health care system and provide universal health care for every man, woman and child in America."

Under the Edwards Plan:

Families without insurance will get coverage at an affordable price.
Families with insurance will pay less and get more security and choices.
Businesses and other employers will find it cheaper and easier to insure their workers.
ENERGY INDEPENDENCE & STOPPING GLOBAL WARMING
Edwards has propsed a plan focused on Achieving Energy Independence & Stopping Global Warming Through A New Energy Economy. He is the only candidate running a carbon neutral camnpaign and has called on Congress to committ to 80% emissions cut by 2050.
At a house party in New Hampshire, Edwards talked about how we need to invest in clean energy sources, mandate more fuel efficient vehicles, and put in place a national cap on carbon dioxide emissions. This is about the future of the planet.
VIDEO: NH House Party--Edwards on Global Warming & Energy Independence
Just last week, Edwards encouraged people to sign the Live Earth pledge and participate in the MoveOn house parties.
Today, blogger Coturnix of A Blog Around the Clock, posted and "Exclusive: Interview with Senator John Edwards on Science-Related Topics"where Edwards addresesed the issue of climate change and other issues. Be sure to check it out!


ENDING POVERTY & STRENGTHENING THE MIDDLE CLASS
Without question, John Edwards is also showing more courage and leadership on the issue of ending poverty, than any other candidate. Edwards believes poverty is the "great moral issue of our time. " Few candidates ever mention the issue of poverty, if at all but John Edwards has been working to inject the issue of poverty into our national dialogue for the last several years. He spoke about the two Americas in 2004 and later founded the Center on Poverty, Work and Opportunity.
This past fall, John Edwards introduced a transformational plan to End Poverty in 30 Years. This plan aims to end poverty in the US in thirty years through creating "A Working Society,""Rewarding work" by creating 1 million stepping stone jobs, strengthening unions, raising the minimum wage to $9.50, and a myriad of other means that will lift up those in poverty and strengthen the middle class.
Edwards has included a Rural Recovery plan to specifically address the poorest regions in our nation.
Edwards has also addressed the outsourcing problem and has stated we need to have "smart trade." At a Working Families rally, Edwards talks about how he will protect our American Manufacturing jobs:
VIDEO: Edwards at an AFL-CIO/Working Families Forum
Road to One America Tour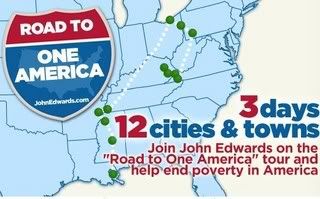 Today, John Edwards announced his upcoming Road to One America Tour where he will make a three-day swing through New Orleans, Memphis, Cleveland, Pittsburgh and eight other cities and eight states, beginning July 16.
For more on the Road to One America Tour, see TomP's recommended diary, John Edwards: The Road to One America
If you'd like to learn more about John Edwards' bold, progressive plans, visit the Edwards for President website and be sure to stop at DailyKos for the Edwards Evening News Roundup for nightly updates on Edwards' Road to the Whitehouse.


And...if you haven't already, join OneCorps!
Stand with others who have been inspired by John Edwards' progressive plans and call to action by signing up for OneCorps, the grassroots service organization of the Edwards for President Campaign. OneCorps held it's first National Action Day in January. Since that time, OneCorps chapters have participated in Step It Up "End Global Warming" Rallies, Moveon Rallies calling to end the war in Iraq, and a number of local community projects across the nation.



Please join us in our fight for all Americans and show your support by donating today! Help us reach our goal of $7000 by the end of the 7th month (July) for our lucky 7 candidate, John Edwards, by donating $7 today through: ActBlue-Bloggers for John Edwards! Thank you!
Tags: John Edwards, presidential primaries (all tags)