Chimps and Chumps
by Milo Millipede, Sun Feb 22, 2009 at 11:07:59 AM EST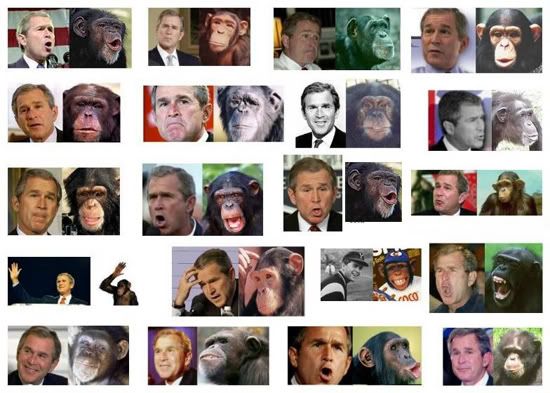 Thousands of depictions of George W. Bush as a chimpanzee were floating around the media for 8 years, and nobody noticed the racial implications of any of them!
"Comme c'est bizarre, comme c'est étrange et quelle coincidence!"
Most of the people demanding that the Post fire Sean Delonas probably don't even know that his cartoons run on Page Six, and mostly cover sports and entertainment, and only what you might call the most grotesque elements of national politics, like the economic stimulus designed by Larry Summers and Tim Geithner.
Personally, I think of Summers and Geithner as goddamned blood-suckers and chumps, but now that criticism of the ridiculous tax-cut stimulus has been rebranded as racism, I guess we can all forget about the millions of jobs and houses that will be lost because of absurd concessions to Republicans, and go back to our usual media-induced stupor until another wave of phony outrage or phony concern or some other form of news about nothing comes out of nowhere and distracts us again.
It only makes the whole stupid mess even stupider that it coincided with the 8th anniversary of the great Chandra Levy super-spectacle that distracted almost everybody from the stolen Presidential election in 2001.
So now that a cartoon from Page Six of the New York Post has crowded any criticism of the brain-dead stimulus out of the news, I want to add my little voice to the chorus of praise for all the unscrupulous hustlers who divert us from unpleasant realities year after year, by updating one of Sean Delonas' cartoons from a few weeks back...
(
Note:
If the idea of a chimpanzee is inextricably linked to African-Americans in the popular consciousness, then it follows that most people who saw George W. Bush compared to a chimp would connect
one more dot,
according to the usual laws of classical conditioning that made Pavlov's dogs jump when they heard a bell previously associated with electric shock.
Bush... Chimpanzee... African-American!
But this never happened.)
Tags: Larry Summers, Sean Delonas, Tim Geithner (all tags)