NBC Picks 11th Consecutive White Male Host for MTP
by Manic Lawyer, Sun Dec 07, 2008 at 11:58:51 AM EST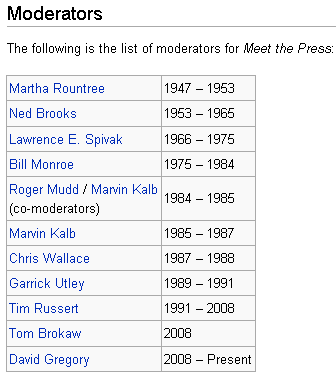 Cross posted at the Francis L. Holland Blog.
After a long search that began when Meet the Press' ninth consecutive white male moderator, Tom Russert, died, now NBC has finally selected the white male moderator who will be the 11th consecutive white male moderator in the show's history.
Ironically, the show was created in 1947 by a woman, Martha Rountree, who then hosted the show until 1953. Ever since 1953, however, when NBC has conducted a search for the best white man for the job, NBC has always succeeded in finding him. (Of course I have no direct evidence that NBC has conducted searches exclusively for white men, and I am drawing this inference from the extraordinary coincidence that although white men are only 30% of American, they have nonetheless been more than 90% of Meet the Press moderators.
Moreover, Media Matters points out that:
. . . the top-rated Sunday show -- Meet the Press -- shows the least diversity of all. The NBC program is the most male and nearly the most white (Face the Nation beats it out by 1 percentage point), and it has the highest proportion of white males to all other guests. Media Matters
Media Matters points out that eight-five percent of guests on Meet the Press are men and eighty-nine percent are white. Media MattersSo, it was about as likely that the new moderator would not be a white man as it was likely that Hawaii would be blanketed with six meters of snow at the height of the summer holidays. On Meet the Press, white maleness is, statistically speaking, the gold standard, even though the show was created by a woman.
A lot of reasons may be advanced why Meet the Press must be hosted by a white man. White men have penises, and their penises are white. That's a qualification that few women or Blacks can match. Latin American men often have white penises, but they suffer from what at NBC may well be considered a fatal defect for this position: they're Latin American.
NBC has overcome these substantive and serious challenges by choosing the eleventh consecutive white man to host the show started by a woman back in 1947. A woman was qualified to conceive and implement the show, but now that is has become a household name it may be deemed important that a white man take weekly credit for the stature of the show and that, for the most part, only white men appear on the show.
Perhaps Barack Obama's election and Hillary Clinton's nomination for secretary of state can open up Meet the Press to women and minorities. After all, it has been standard practice for presidents and secretaries of state to appear on Meet the Press and presumably this will continue even when the president is Black and the secretary of state if a woman. But maybe not. MTP may well argue that if they allowed President Obama and Secretary of State Clinton to appear, they could be accused of doing so only to meet color and gender quotas.
Tags: chauvinism, nbc, sexism, white male supremacy (all tags)