Why is John Edwards the most electable?
by ManfromMiddletown, Tue Jun 26, 2007 at 09:47:00 AM EDT
Yesterday, Jerome Armstrong posted a front page entry talking about the electability question, and dredging up the old discussion of whether John Edwards is the most electable candidate and why. Dodging between the race baiting and attacks that he's anti-Obama in his posts, Jerome was able to post an update from the analysis of the poll that the diary focused on, noting the reason that Edwards is more electable than other candidates.
Unlike other Democrats, who will be forced to "run the table" of states where Democrats have been competitive in recent elections, Edwards brings new states into play. This provides alternative scenarios - and a margin for error - when it comes to winning 270 electoral votes.
Now there seemed to be a group posting in Jerome's entry yesterday that took this to be tacit evidence of racism. But I don't think that's what it is.
This isn't about the messenger, it's about the message.
Message..... Delivered?
A recent poll of rural voters conducted by the Center for Rural Strategies found that rural voters are turning on the GOP.
*Rural voters deliver a narrow plurality to a generic Democratic candidate for President: 46 - 43 percent. In contrast, President Bush won the rural vote in 2004 by 19 points.

*At the Congressional level, voters prefer Democrats in named trial heats 46 - 44 percent.
This is a huge shift, and signals a real chance for a Democratic candidate to take the White House in 2008. Since 1980, Democrats have only been able to successfully take the White House when they have contested the rural vote with the GOP. As the graphic below shows, contesting the rural vote is the difference between defeat and victory for a Democratic presidential candidate.
Rural Voters are the Key to the Kingdom.
Electoral victories are based in no small part upon change rather than stasis. In the world of electoral politics, there's two major ways to get votes. GOTV, which means getting your people out to vote, and persuasion, which means getting people who normally vote for the other guy to vote for you. In modern American politics, it's a simple game. Democrats run GOTV strategies in urban areas, Republicans do the same in rural areas, and both parties run persuasion campaigns in the suburbs. The suburbs are on the rise demographically, but they play a disproportionate role in deciding who will win presidential elections.
And ultimately, the long existing mindset that the suburbs are the field of political battle has led to a ossified political system that tailors political campaigns to the wants and desires of the suburbs at the expense of urban and rural areas. Suburban America is doing fairly well, while it's true that the renovation of the urban core in the 1990's and early part of this decade has successfully forced many poor out of the cities into the suburbs, for the most part the most economically vital, functioning parts of America are in the suburbs.
And because of this the issue of poverty, and more profoundly that of inequality has been put on the backburner, And we have asinine fights about the culture war, instead of doing something to help the millions of urban and rural Americans who see less opportunity for their children's generation than for their own. However, because the suburbs alone are held to be the key to the kingdom by political pundits of many stripes, we have a political life that is characterized by culture wars instead of serious discussion about inequality, and how we can make America a better place for all.
2006 saw that change, as Democrats broke through with the rural vote, yielding surprising victories and even closer calls in House seats like the NC-11 and IN-3. Rural America revolted, and what they wanted was change. As this 2006 Center for Rural Strategies poll shows 2006 wasn't about Iraq, corruption, or even less so a shift in social values. It was fundamentally about inequality, and the sense that the American economy is producing deep class divisions that threaten our image of our country as basically equal.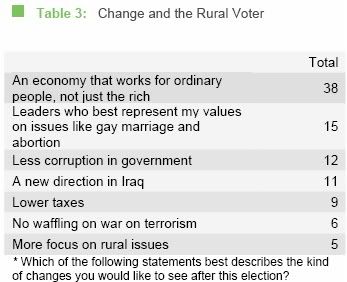 2006 wasn't a referendum on Iraq, it was a call for economic populism. And that, not Iraq, or anything else is what will widen the battlefield in 2008. And John Edwards is the only candidate willing to talk about inequality, and who has specifically offered up a rural recovery plan that doesn't conflate rural recovery with the Farm Bill. This allows John Edwards the opportunity to contest many more states than any of the other candidates.
2004..... and 2008
Looking at the 2004 MSNBC exit poll we can look deeper into the electoral calculus that has led to the strategy of contesting the suburbs.
Nationally, the Democratic base in urban areas comprised 30% of all voters, and voted for Kerry 54-45. Suburbs made up 46% of all voters and went for Bush 52-47. Rural areas made up 25% of all voters, and went for Bush 57-42. It's easy to see why campaigns fixated on winning the suburbs, they make up nearly hal of the voters in the country and they are the most closely contested bloc of voters. However, being urban or rural doesn't have the same political meaning in different states, and further some states have are more rural, urban, or suburban than other.
I've drawn up a series of maps below showing what percentage of voters in a given state fall into rural, urban, or suburban categories. The deepest shade of green means that more than 50% of the voters in a state belong to that category, lighter green 25-50, lightest green less than 25%, and gray means that that category either no data, or so few to not give a crosstab for the Kerry-Bush preference maps I've made.
Urban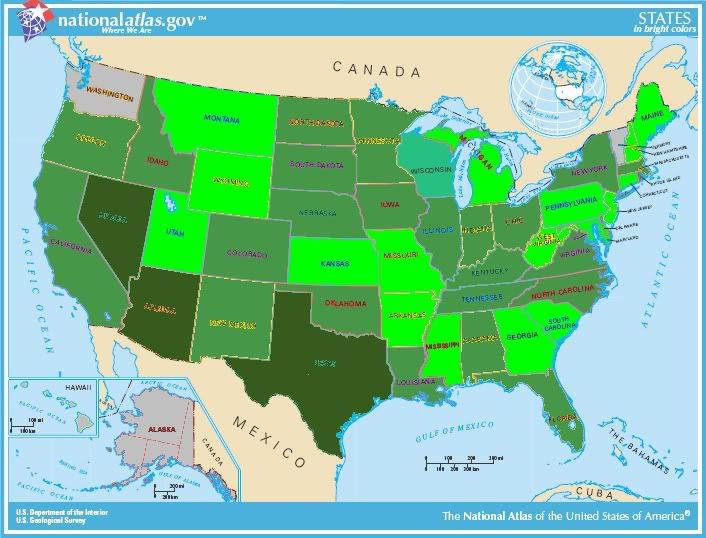 Suburban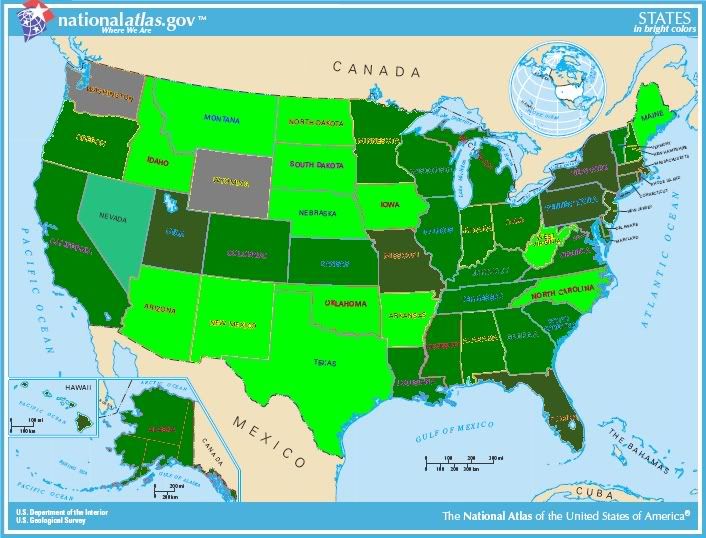 Rural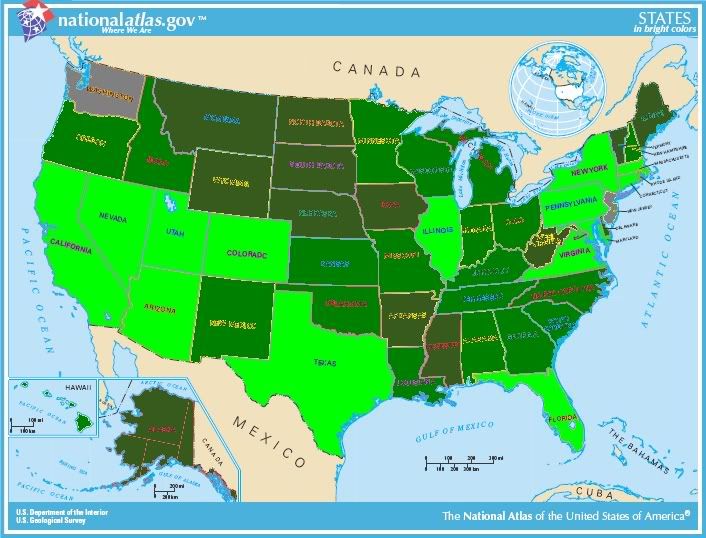 Another way of looking at this is showing what (if any) category breaks 50% in a given state. Orange means that they are majority urban states, yellow majority suburban states, and green majorty rural states. Simply in these states if you win that category, you win the state.
So 49 electoral votes are in states where urban voters are in the majority, however none of these states voted for Kerry in 2004. 140 electoral votes are in states with suburban majority, and they lean Democratic. 45 electoral votes lie in states that have rural majorities, and these states voted overwhelmingly for Bush. And 301 electoral votes lie in states that have no one category as the majority.
Turning to margins based crosstabbed with category. We see that while the conventional wisdom that urban areas vote Democratic is largely true, there are exceptions. In the following set of three maps, deep blue is greater than 60% Democrat voting, lige blue 55-60, lightest blue 50-55, light pink 45-50, light red 40-45, and deep red less than 40% Democrat.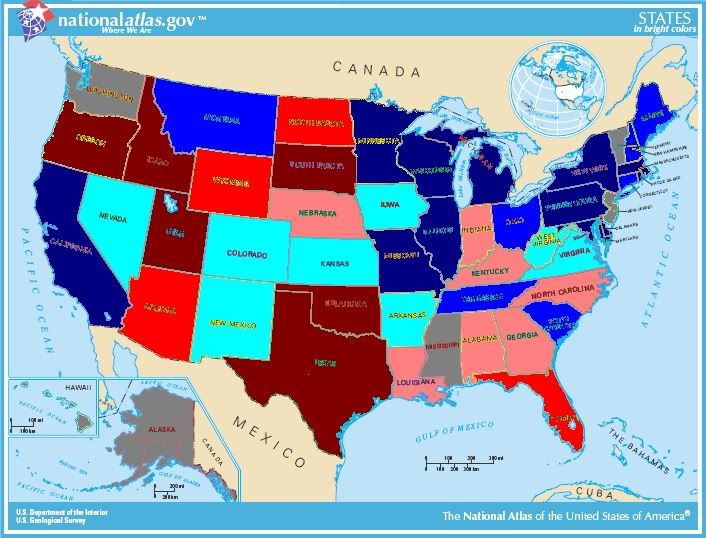 Texas and Oregon are the big surprises here with urban voters being strongly for the GOP.
Looking at suburban voters there are more surprises.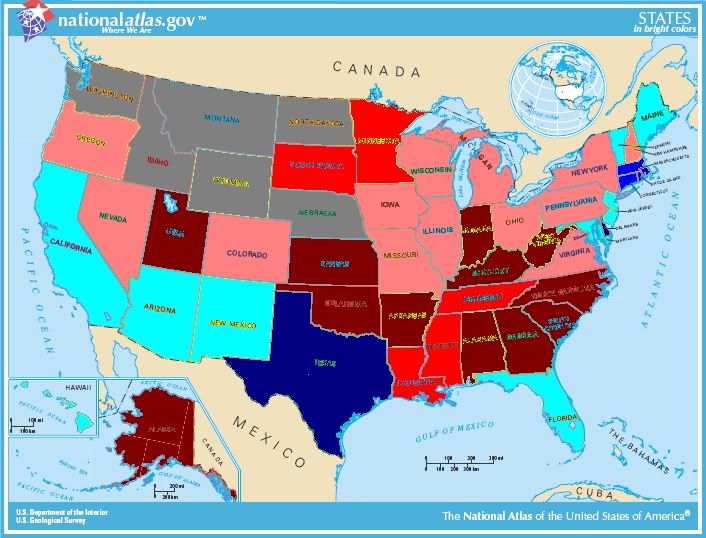 In Texas, voters identifying as suburban are heavily Democratic, while in Arizona and New Mexico, they are marginally so. In Florida, we see that suburban voters are more Democratic than their urban counterparts.
Finally rural voters.
Outside the Northeast and Midwest, rural voters went heavily for Bush. One notable exception is Arkansas that gave a strong showing for Kerry among rural voters.
So what does this mean?
In early June of this year, the Center for Rural Strategies released a poll showing a 21% swing to Democrats when rural voters were asked if they would vote for a generic Democrat.
If we use the exit poll data from 2004, and assume a 21% shift from Republicans to Democrats in each state with all else being equal, we get the following map.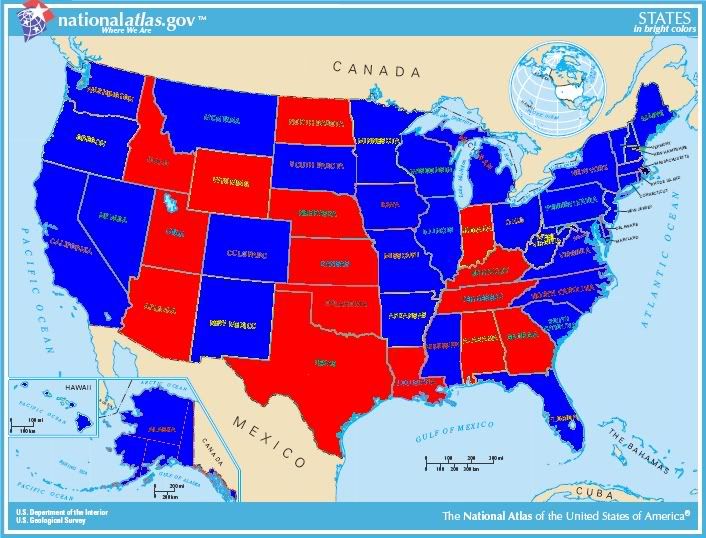 In terms of electoral votes, that's a 398-140 victory for the Democratic candidate.
Taking a closer look at the margins, we get this map.
This is the same color scheme as the other maps above. As you can see, only in Utah do Republicans manage a victory with more than 60% of the vote. The battlefield is pushed south and west. With the shift in rural votes turning Arkansas and West Virginia, deep blue, and making Democrats competitive in Virginia and the Carolinas. Now the truth is probably more complex than a 31% across the board shift, with gains being concentrated in the Great Lakes region, and to a lesser extent in the upper south, and on the Great Plains.
The point is that if a Democrat contests the rural vote, they greatly expand the number of states they can compete in. And this in turn makes them much more electable. And the key to winning over the rural vote is economic populism, and not being afraid to talk about inequality while at the same time recognizing that inequality and poverty are as serious if not more serious in rural areas as in cities. It's when Democrats succumb to identity politics, and write off rural areas because poor whites live there that they lose.
2008 can't be about the messenger. Identity politics have had their day, and they've lost. The time has come to return the party to the populism of FDR and Truman, and to reclaim the nation's politics from elites who only want to talk about themselves. Economic populism is the answer.
And John Edwards is the only candidate selling populism. I'm convinced that his recent move away from talking inequality, to talk about Iraq instead made him a weaker candidate. Because he was trying to compete with the same suburban strategy that never works. Now, John Edwards is back on the trail talking about poverty and inequality. I just hope he sticks to it, because that's the ticket to winning the rural vote, and taking the White House in 2008.
Tags: Barack Obama, Hillary Clinton, John Edwards, rural (all tags)