Classism
by linfar, Thu Apr 24, 2008 at 03:33:34 PM EDT
cross-posted from SavagePolitics.com
I have rarely read anything on the subject of class that was worth the effort it took to get to the end of the article. Defining class usually requires endless dry paragraphs, and no one is ever satisfied by the outcome. Raise the subject of class in conversation and someone from across the room will scream that class in America is dead. And yet class is as palpable to me as how I walk and talk, who I find funny and why, where I went to school, how I speak and to whom. Class is today's invisible prejudice. It is the cut no one sees or worse still, thinks is funny. It is a million dirty jokes, the last place you can put your disdain for others and no one will think less of you. Class is also the issue that is gumming up this primary campaign like crazy glue.
After the Democratic primary results in Ohio on March 5, 2007, Heidi Przybyla on Bloomberg.com wrote:

Barack Obama has an Archie bunker problem. The white, blue-collar voters personified by the 1970's fictional television character cost Obama yesterday. His Democratic presidential rival, Senator Hillary Clinton of New York beat him 54 percent to 44 percent in industrial Ohio and 58 percent to 40 percent in heavily Catholic Rhode Island. In Ohio's 10th district of Cuyahoga county, a suburban enclave on Cleveland's west side that includes a large population of Polish-Americans, Clinton trounced Obama 61 percent to 37 percent, according to exit polls. In the state's Belmont county, an economically depressed Appalachian border area that is predominantly white, she had a 50-point lead over Obama...
Przybyla reported Joe Trippi, a former senior strategist for John Edwards, as saying:
Obama has had a problem with lower-income, downscale, blue-collar democrats from the beginning. He typically appeals to better educated, upscale Democrats.
Obama's chief strategist, David Axelrod, has denied this. But how he could do so is a puzzle to anyone who has followed Chicago politics.
Since he began running for public office the challenge Obama faces in working-class, white ethnic neighborhoods is well known. Richard Dorsch, a 53-year-old paramedic Fire Chief from Chicago's Edison Park told Przybyla he supported Clinton in the Illinois primary, but he will vote for John McCain if Obama wins the nomination. This is why:
When he talks to you, it's like he's talking down to you. He doesn't have the experience to talk like that.
This is not racism which is the popular reason asserted for Obama's poor showing with white working class voters. It is class. And class is the elephant in the room that some pundits reference but always pejoratively. One can almost hear them saying, 'don't you get it? These ignorant racist stumblebums are the clods keeping Obama from sweeping to victory.'
Unfortunately, this demonstrates how little pundits do their homework. The issue of these voters is a huge, and perhaps insurmountable problem for the Democrats in November if Obama is their standard bearer. Kent Redfield, a professor of political studies at the University of Illinois in Springfield says:
When Democrats win national elections they really do put that old New Deal coalition back together. The have to get that Reagan Democrat.
The last time Democrats pulled this off was the election of Bill Clinton. After that the coalition was lost. This contributed to the unsuccessful bids by Carter for a second term, and then by Kerry and by Gore. All three it should be pointed out were perceived by the white working class of this coalition as wimpy, wordy or nerdy, out of touch, and not sympathetic to the needs of working people. It is critical to realize that race played no part in these decisions. And I do not believe racism from this constituency is playing a role in this primary process either. Rather, white working class people are going for Clinton over Obama because Obama doesn't `get them.' Moreover, he insults them. It isn't only the infamous `bitter' remarks made to an affluent, audience in San Francisco where he characterizes this constituency--double whammied by unemployment and hard times-- as "clinging to religion, guns and a distaste for people not like themselves." It is much, much deeper and since it has dogged him from his earliest days, it would seem apparently irreparable. Pryzybyla writes:
Chicago's 41st Ward is a classic white working-class neighborhood of bungalows, modest two-flats and Dutch colonials that shuts down on Pulaski Day, the March holiday celebrating Casimir Pulaski, a Pole who found in the Revolutionary War. An informal survey of employees at a local bank, gym, library and neighborhood restaurant turned up no Obama supporters. Some residents said they were concerned that he might not take into account the concerns of whites. `If Obama gets in, its going to be a black thing and its going to be all blacks for blacks,' said Victoria Mikulski, a 63-year-old clerk in Edison park. `Everything's got to be equal.'
Some might call this racism, but it is nothing of the kind. After decades of affirmative action which has promoted AA `s over white working class candidates, these voters are wary. They have seen the way the Clintons have been assaulted and demeaned as racists. They have listened while Obama supporters have called them old and out of touch. They know the jokes made at their expense, and they understand they have been scapegoated for decades as ignorant and prejudiced. They also know that the deck in terms of race and class has all been stacked on the side of race. No one wrote of their plight when thirty-five years ago, a growing AA population on the city's west side pushed whites north into Edison Park. No one stood up for them when their jobs went south or overseas. And no one has cared much to talk about a standard of living that is sliding backwards.
Is it any wonder these people don't trust Obama? Veiled references to bigoted and white trash voters, code for racist, has emanated like fumes off a garbage heap from the Obama campaign from the outset. Al Sharpton on Feb. 17 called Hillary supporters, "uneducated, redncked white trash." And On April 24 Rhandi Rhodes, an Obama supporter and radio host, called Hillary voters "white trash." So lets take a moment and look at that terminology. White trash is a noun. It is offensive slang. It is used as a disparaging term for a poor white person or poor white people/ and or as a disparaging term for a white person or white people perceived as being lazy and ignorant. Even now, in our age of political correctness, it is considered tolerable and even appropriate to ridicule white persons of the lower economic class as ignorant, unintelligent, eccentric, crude, unattractive, lazy, racist, alcoholic, religious to the point of absurdity, inbred, and prone to violent behavior. Trailer Trash and Redneck of course are other equally demeaning terms.
On Wednesday, April 23, David Axelrod explaining Obama's nearly 10 point loss the day before in Pennsylvania said on National Public Radio:
"The white working class has gone to the Republican nominee for many elections, going back even to the Clinton years. This is not new that Democratic candidates don't rely solely on those votes."
This is factually inaccurate.
It is also not helpful to the Democratic Party's chances in November if their candidate cannot carry this vote. In a 2006 piece for "The American Prospect" John Halpin and Ruy Teixeira write:
Keep in mind that Bill Clinton actually carried white working-class voters in both his successful presidential campaigns (by a single percentage point in both instances)... Progressives' difficulties here are underscored by the large size of this group. According to the 2004 Current Population Survey (CPS) Voter Supplement data, white working-class voters are a larger portion of the electorate than indicated by the exit polls -- 52 percent, rather than 43 percent. Based on educational attainment trends and population trends by race, a reasonable guess is that the size of the white working class in another 10 years, even though it is shrinking, will still be around 46 percent to 47 percent -- a very large group among which to be doing very poorly. In fact, a progressive majority coalition is simply not possible if that poor performance continues, despite the many ways in which demographic change and growth favor progressives, including the increasing proportion of single women within the white working-class population.
http://www.prospect.org/cs/articles?arti cleId=11443#4
But everywhere so-called progressives who decry racism in any form are rushing to malign and demean this core Democratic voting group. Perhaps nothing demonstrates this better than this picture in the Huffington Post which accompanied an article by Thomas Edsall titled: "On Course For Another White Guy Election"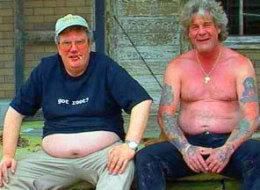 As if the picture were not offensive enough. Edsall writes:

The prominent role of more centrist and conservative white men in the Democratic primary process is confounding to some. Just last year, Democratic political scientist Thomas F. Schaller was breathing a sigh of relief over the prospect that white men were a steadily diminishing factor in the political landscape. In an essay titled "So long, white boy" published September 17, 2007 on Salon, Schaller wrote:
Could 2008 be the year that Democrats finally admit an old sweetheart is never coming back, and stop pandering to the white male voter? The Democratic obsession with the down-home, blue-collar, white male voter, that heartbreaker who crossed the aisle to the Republicans many decades ago, may finally be coming to a merciful end....it's a waste of time and resources for the Democrats to pursue them -- a classic sucker's bet...Democrats finally seem to realize that cultural contortionism in the pursuit of Bubba produces little more than smiles on the faces of Republican consultants.
Inotherwords the progressive prejudice against the white working class has reached an apotheosis wherein the best one can do is wish they would just hurry up and die off. And yet in his article Schaller has to give the devil his due:
Yet centrist Democrats continue to urge the party to find new ways to lure white male voters back into the fold. Bill Galston, former domestic policy advisor to Bill Clinton and one of Washington's sharpest analysts, is a proponent of a Democratic reinvestment in white male voters.
Well, somebody gets it. But most do not. And our impervious and elitist attitude to class is the element that will lose Democrats the election. It is more than I can bear, let alone understand, to see my parents and my friends ridiculed and written off as worthless, good only for dying off. When death reigned out of the sky on 9/11, 2001, and stock brokers and financial analysis's were running downstairs out of the burning towers, firemen were running upstairs to rescue the wounded and the helpless. Close to 350 white guys gave their lives that day in the service of their country. And the whole world took their hat off to them. It is about time the Democratic Party did the same.
Tags: Barack Obama, begging for a permanent ban, classism, Democratic Party, Joe Trippi, racism, white working class (all tags)