WTF! The New Yorker COVER Does it AGAIN!
by Lieber, Tue Jul 22, 2008 at 03:08:45 PM EDT
I cannot believe these people! I canceled my subscription before, but I am now calling the magazine to get a NEW subscription, so that I can cancel it again later today!
No, no. Better yet... I'm going to buy the entire magazine so that I can go into the office of every staff member wearing a Donald Trump style wig and yell, "You're so totally and everlastingly unemployed!"
Don't know what I'm talking about?
WELL, LOOK AT THIS, SPANKY: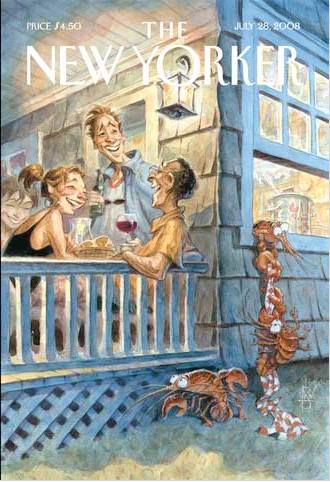 I-- I mean what-- what-- WHAT THE FUCK!?
First, they've got three lobsters climbing out of the window in an UTTER PACNIC and what are they descending down?!? Don't tell me that's not a A TERRORIST SCARF, because it most certainly fucking is!
And look at the pot! With the clearly MURDERED crustacean!
You're telling me that's not a blatant, overt, obvious, naked reference to Guantanamo Bay?!?
And note the people on the left of the image... ON THE LEFT, REMEMBER... man standing next to man, woman sitting with woman... if that's not a utter, wholehearted, fully-planned shot-across-the-board against GAY DEMOCRATS well then my name isn't Howard Wolfson O'Reilly Brokaw!
And the RED WINE! RED! WITH LOBSTER?!?
Communist, gay, lobster hating, Democratic, torturers!
I mean... CHRIST... is that woman... ANY WOMAN... in that drawing even wearing a bra?!?!
Don't think that's bad? Well, count the railings on the bannister! ELEVEN! ELEVEN RAILINGS!
I'm not sure WHAT THE FUCK THAT MEANS, but I'm sure that its DISPARAGING and SO NOT GOOD!
Why don't they just hand the election to John McCain and get it over with!*