Rate the Pundit Poll: Tweety
by jamess, Fri Aug 10, 2007 at 09:40:48 PM EDT
Tweety Bird, the cartoon character from Warner Brothers, "had charm and innocence"
Tweety, the squawking Host of MSNBC's Hardball, well he has the same yellow hair, and a similar clownish head.
Though the physical resemblance between between the lovable Cartoon Character and the Media Cheerleader, is striking, the similarities between them end there! Haaah!


[ Like most here, I too, find it bad form to "use a person's physical appearance against them" -- BUT since Matthews frequently resorts to "this Gravitas tactic" in his political commentaries, I figure it's about time he get a dose of his own medicine ...]
First of all, I used to be a fan of Chris Matthews. I thought he spoke passionately about some of the issues I cared about. Matthews' history in the Peace Corp and as a speech writer for Jimmy Carter, had always impressed me. However, his slow descent into the mud of Character Attacks, over the last several years, has left me, quite frankly -- Stunned!
Despite having worked for Democrats, Matthews has said, "I'm more conservative than people think I am. ... I voted for George W. Bush in 2000." The liberal media watchdog group Media Matters for America named Matthews "Misinformer of the Year" in 2005.

Misinformer of the Year

An annual feature on the Media Matters website is the title of "Misinformer of the Year," which is awarded to the journalist, commentator, and/or network which, in the opinion of Media Matters, is responsible for the most numerous and/or grievous factual errors and claims. The complete list of awardees of "Misinformer of the Year" is as follows:

* 2004 -- FOX News Channel's Bill O'Reilly
* 2005 -- MSNBC's Chris Matthews
* 2006 -- ABC, specifically ABC News director Mark Halperin and the Path to 9/11 miniseries
Despite whatever the "good intentions" Matthews' may have once had, he has joined a very select group of Informers there, including the likes of Bill O'Reilly! SO just keep spout those Opinions Tweety, and Media Matters will keep Fact-Checking them for you:
Chris Matthews: 2005's Misinformer of the Year
This year, of all the news anchors, columnists, pundits, and reporters whose work we've critiqued and corrected, one man stands alone as a clear successor to the O'Reilly throne. We are pleased to announce broadcast journalist, former newspaper bureau chief, former presidential speechwriter, and best-selling author Chris Matthews has earned the title of 2005's "Misinformer of the Year."
*


Chris [heart] George, Part 1: Bush sometimes "glimmers" with "sunny nobility."

Chris [heart] George, Part 2: "Everybody sort of likes the president, except for the real whack-jobs ..."

Chris [heart] George, Part 3: Matthews praised Bush speech as "brilliant"even before it was delivered.

Chris [heart] George, Part 4: Bush "belongs on Mount Rushmore."

Matthews distorted Murtha's Iraq proposal.

Matthews falsely attacked Wilson over Niger trip's genesis.

Matthews mischaracterized Democratic efforts to complete intel probe as "disingenuous,""using crocodile tears."
http://mediamatters.org/items/2005122300 05
----


Even after being called out like this, Matthews failed to see the error of his ways. If anything he has become more of a Right-winger since then. He certainly has adopted more of their "Fair and Balanced" Tactics, like ignoring the Facts, and attacking a person's Character, based on paper-thin arguments (and often with nothing more than bold Assertions of his "personal insights"):
Mar 16, 2006: Matthews still "amazed" Bush is unpopular
MATTHEWS: I always thought Bush was more popular than his policies. I keep saying it, and I keep being wrong on this. Bush is not popular. I'm amazed when 50 percent of the people don't like him ...
Jan 19, 2007: Matthews praises Mitt Romney's looks
MATTHEWS: What do you think of him as an opponent? We're looking at him right now. He has the perfect chin, the perfect hair, he looks right. He looks like a Mountie. He looks like from the Royal Canadian Mounted Police.
May 4, 2007: Matthews tells us what he thinks of Fred Thompson

He has said former Sen. Fred Thompson "looks like a movie star," adding that "people like movie stars," and he has described an interview he conducted with Thompson as an example of "when you fall in love with politicians."
June 13, 2007: Matthews tells us what he thinks Fred Thompson smells like

MATTHEWS: Can you smell the English leather on this guy, the Aqua Velva, the sort of mature man's shaving cream, or whatever, you know, after he shaved? Do you smell that sort of -- a little bit of cigar smoke? You know, whatever.
Aug 7, 2007: Matthews can't believe that public favors Dems on fiscal issues

MATTHEWS: Let me ask you about politics. I just looked at that Wall Street Journal/NBC poll. And I have been watching these polls for years, and I've never seen numbers like this. And I don't think it's fair, but it is public opinion right now.The people now think the Democrats are better at balancing the budget. The Democrats are better at reducing government spending. The Democrats are better at lowering taxes.Give me a break.
[ Maybe Tweety should do a little more research, and a little less "Candidate Sniffing", eh? ... The Progressive Majority. PS. Chris it's not about "what you think is fair" -- it's about what the People want. Remember Nov 2006 ? That was the People telling you something! ]


Aug 8, 2007: Matthews' post-forum pressing issues: Edwards' size, Clinton's voice

From MSNBC's August 7 post-forum coverage:

MATTHEWS: That Edwards missed a chance tonight?
ROBINSON: Absolutely. I do agree that Edwards -- Edwards took his cuts. I mean, he --
MATTHEWS: Why didn't they seem to sting? Why did they seem to be glancing blows that didn't grab the audience? Is the fact that he's a small man -- I mean, literally, physically? Is there something that can't command that stage?
ROBINSON: He's not physically that small. He's -- you know --
[MATTHEWS cuts him off ]...
MATTHEWS: I agree. He doesn't work in the big hall. And there we are in Soldier Field.
[ Funny how once again the People HAD a different Opinion than Matthews, on "who commanded Soldier Field", where Edwards, place a strong 2nd to Obama, and far ahead of Matthews' pick for Winner, the 3rd Place Hillary Clinton! Funny too how Matthews and MSNBC have failed to hammer home these results from their own MSNBC Viewer Poll of the Union Debate. ]
-------------

Speaking of "stature" Tweety seems to have a little trouble filling out this "empty suit": (Maybe he should ask Thompson or Romney for the name of their Tailors?)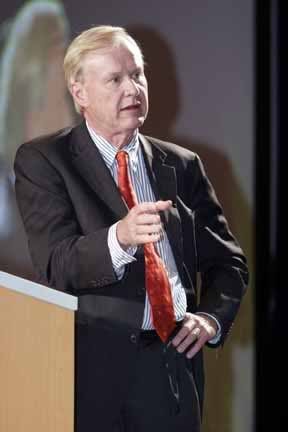 Maybe that photo helps to explain Tweety's continuing juvenile obsession with a Candidate's size:
Aug 9, 2007: Matthews: Where have all the "big, beefy""every-way big guy" Democrats gone?

Chris Matthews asserted: "I don't see a big, beefy alternative to Hillary Clinton -- a big guy. You know what I mean? An ... every-way big guy. I don't see one out there. I see a lot of slight, skinny, second- and third-rate candidates."
Wow! isn't that the pot calling the kettle, something? Haaah!
-------------


Whatever the reason for Matthews insistence on continually "dumbing down politics" to simple caricatures, and "stature critiques" -- there once was a day when Tweety was a respected Journalist, winning awards and breaking important stories:
In 1997 and 1998, his digging in the National Archives produced a series of San Francisco Examiner scoops on the Nixon presidential tapes.
One Question: Chris, What Happened?
I guess some Media Pundits, prefer corporate "Agenda Setting", over solid "Investigative Reporting". It must pay pretty well, in order for such Talking Heads to continue to live with that 'nagging conscious'? My oh my, how far the once 'noble profession of Journalism' has fallen, after once flying so high, in the service of Democracy!
And Tweety is a living example of this great "dumbing down of political discourse". Once a Presidential Speech writer for a true progressive, but now he has sunk to mere Spin-Meister, with little of importance to say, except, "Na, na, Nun na Na! ...daah ... Haaah!"


Next Question: Why do people continue to fall for this?
Maybe they AREN'T ! According to this recent Gallup Poll,only 23% of American "have confidence in Television News". Matthews had better start updating that Resume!


---------------------------------------- -
Now finally as promised, on to the ... Rate the Pundit Poll: Tweety
Tweety Bird, the cartoon character, "had charm and innocence"; BUT this description hardly fits "Tweety", the host of MSNBC's Hardball, does it?

---------------------------
The Pundit Poll Question: Far from lovable and innocent (like his namesake Tweety Bird), and mostly lacking in Gravitas himself ... Chris Matthews, is really much more like ... ???
The Choices: first some definitions:
a Snake-oil Salesman: someone who tries to sell you something of no value.
a Shill: One who poses as a satisfied customer or an enthusiastic gambler to dupe bystanders into participating in a swindle.
a Stooge: One who allows oneself to be used for another's profit or advantage; a puppet.
a Game Show Host: a profession involving the hosting of gameshows.
the Fashion Police: self-appointed individuals who criticise the clothing others wear, and thereby those others' fashion sense.
a Mercenary: Motivated solely by a desire for monetary or material gain.
a Quack: A person who pretends, professionally or publicly, to have skill, knowledge, or qualifications he or she does not possess; a charlatan.
a Charlatan: A person resorting to quackery, pseudoscience, or some ... bogus means of impressing people in order to swindle his victims by selling them worthless ... goods or services that will not deliver on the promises made for them.
a Pundit: popular media personalities lacking special expertise; Pundit is also a slang term for politically biased people pretending to be neutral.
a Strange Amalgam of All the Above: the result of the blending of mercury with another metal or alloy
a Journalist: Journalist carries a connotation or expectation of professionalism in reporting, with consideration for truth, fairness, balance, decency and ethics - although standards can vary widely between publications.
a Patriot: one who supported the American cause in the American Revolutionary War.
is Something Completely Different: a catchphrase in Monty Python's Flying Circus.
---------------------------------------- -
[ And THANKS for Voting !!! ]


Tags: Chris Matthews, journalism, Media Matters, MSM, MSNBC, pundits (all tags)