New Gallup tracking poll
by hwc, Wed Feb 06, 2008 at 01:39:18 PM EST
Here's this afternoon's Gallup tracking poll: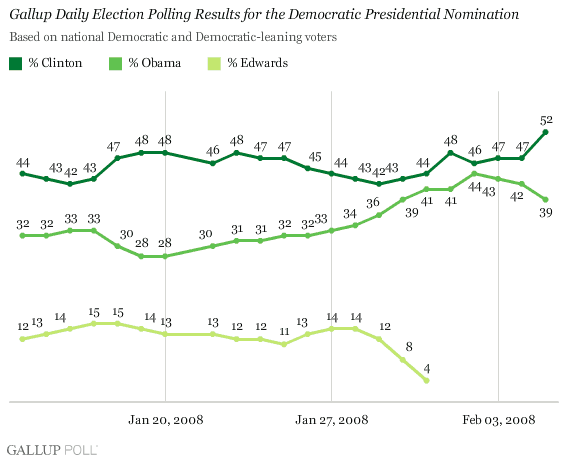 This is a three-day rolling poll with 1250 likely Democratic voters.
PRINCETON, NJ -- The increase in support for Hillary Clinton at the national level that Gallup saw in interviewing conducted Sunday and Monday continued in interviewing Tuesday night. Gallup Poll Daily tracking conducted Feb. 3-5 now includes three consecutive days in which Clinton has done well, giving her a 13-percentage point lead over Barack Obama, 52% to 39%.

Democratic preferences in Tuesday night's interviews -- mostly conducted before Super Tuesday election results were known -- were similar to Sunday and Monday night's interviews. Gallup Poll Daily tracking will not begin to reflect the impact of Tuesday's voting on national Democratic preferences until tomorrow.

Obama had been competitive with Clinton in interviews conducted Feb. 2 (as well as earlier last week), but those interviews have now dropped out of Gallup's continuous three-day rolling average reporting.
Tags: Election 2008, Hillary Clinton, president (all tags)