Supporting Edwards Perpetuates the Status Quo
by francislholland, Mon Feb 19, 2007 at 12:50:03 PM EST
<href="http://photobucket.com" target="_blank">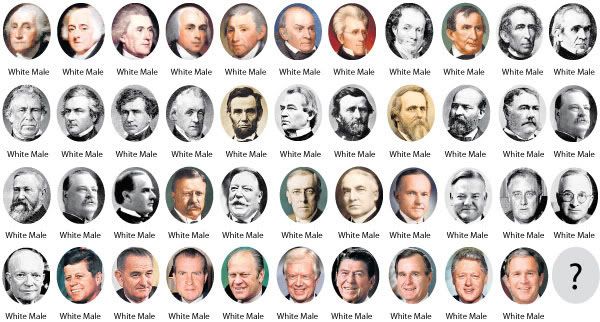 Cross-posted at http://francislholland.blogspot.com/2007/02/supporting-edwards-perpetuates-status.html
You can't end the monarchy by supporting the king, and you can't end the political, economic and social disenfranchisement of women and Blacks ("the poor") by electing another wealthy white male as President of the United States.
If you think about it, the most fundamental aspect of the status quo throughout American history has been the literal and figurative disenfranchisement of women and Black voters, as well as other sociological minorities. They could not hold electoral office and they never have held the highest office in the land because white men ALWAYS have arrogated that office unto themselves, sometimes with the complicity of white women. Women remain only 16% of the US Congress while 1% of the US Senate is Black in a nation with a 13% Black population.
If you define the status quo as "the continuing disenfranchisement of those who historically were denied the right to vote and hold elective office", it becomes clear that the election of John Edwards to the Presidency - another white male in a string of 43 consecutive white males - would constitute the clearest possible reaffirmation of the status quo.
For every group in America, economic advancement has historically gone hand in hand with political advancement, while closed doors to political advancement have consigned women and minorities to the lowest economic status in our society, even after centuries of participation here.
The twin doctrines of white supremacy and its corollary, a belief in the inherent inferiority of blacks, combined with capitalism to create a powerful rationale for slavery. Nationwide, de facto and de jure segregation and discrimination based on the notion of race were accepted and effective tools to enforce and entrench a pervasive system of white economic power and privilege and black oppression and disadvantage. http://www.answers.com/topic/african-ame rican-history
Electing Edwards to challenge that status quo is like supporting the king to challenge the monarchy or integrating an all-white male club by adding more all-white male club members.
When you define the status quo as "the continuing disenfranchisement of those who historically were denied the right to vote and hold elective office", and you realize that economic disenfranchisment continues to flow inevitably from political disenfranchisement, then you realize that America can do much more to alleviate poverty by electing a woman or Black president than by electing John Edwards president. The political disenfranchisement of women and minorities has resulted in economic disenfranchisement which John Edwards, were he elected, proposes to eliminate 22 years after he leaves office. http://www.johnedwards.com/news/speeches20060622

<href="http://photobucket.com" target="_blank">
Much of the poverty of American families derives from the fact that women heads of household have less access to well-paying jobs even when they are well-qualified for those jobs. http://www.wic.org/misc/history.htm And when the historically disenfranchised do achieve responsible jobs, they continue to be paid less than white men are. http://books.nap.edu/openbook.php?record _id=91&page=91 These historical and continuing patterns of political and economic disenfranchisement cause the persistent poverty which John Edwards has proposed to alleviate by the year 2038.
Women and children are much more likely to be poor, and minorities are more likely to be poor as well. It might well be considered patronizing to suggest that a white man is better qualified to understand and address a problem that effects women and minorities more than anyone else. Edwards is saying, "Trust me and I'll try and solve your problem." Women and minorities are saying more loudly now than ever, "Give us a chance and we'll solve this problem for ourselves!" It may seem radical to try give women and minorities a chance after so long disregarding this alternaive out of hand. Yet - for people concerned about poverty - empowering women and minorities to solve their own problems really makes much more sense. But, John Edwards is saying to women and minorities, "If you give me your sandwhich, I'll tell you what it tastes like." But the appeal of John Edwards' solution is understandably alluring - even ingenious - because it proposes to change the status quo in thirty years by maintaining it right now.
It is not unconceivable that electing yet another white man to the Presidency would lead to a diminuition in the poverty of the historically disenfranchised, with John Edwards serving as a "pass through" for those who have historically been disincluded legally and by custom. But this is a very convoluted way of achieving what could be achieved much more directly by electing Hillary Clinton and Barack Obama to the White House. http://francislholland.blogspot.com/2007 /01/two-americas-enfranchised-and.html
Of course, ending disenfranchisement is not the only goal of the Presidency, but it is John Edwards' raison d' être, which is why electing Hillary and Barack is the best way to achieve the goal that John Edwards espouses.
Cross-posted at http://francislholland.blogspot.com/2007/02/supporting-edwards-perpetuates-status.html francislholland@yahoo.com
Tags: 2008, Barack Obama, Hillary Clinton, John Edwards, racism, sexism, suffrage (all tags)