Leftists disrupt health industry bailout!
by fairleft2, Tue Aug 11, 2009 at 12:19:07 PM EDT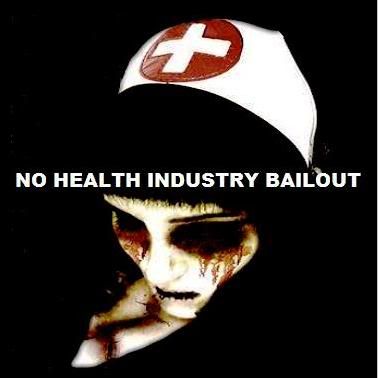 Just wishful thinking again, but wouldn't it be great if leftists were disrupting the 'town halls' pushing for Obama's health industry subservient reforms? Read this excellent piece by counterpunch.org's Dave Lindorff:
Why Aren't Progressives Disrupting ObamaCare Town Halls?

Many progressives are getting all bent out of shape over the "brown shirt" rabble organized by health industry PR firms to disrupt the so-called "town meetings" being organized all over the country by Democratic members of Congress.

What they are conveniently forgetting is that these are not really "town meetings" at all . . .

These "town meetings" are really nothing but propaganda sessions run by members of Congress who are trying to burnish their fraudulent credentials as public servants, and trying to perpetrate a huge fraud of a health care bill that purports to be a progressive "reform" of the US health care system, but that actually further entrenches the control of that system by the insurance industry, and to a lesser extent, the hospital and drug industry.

ObamaCare is to health reform what bank bailouts are to financial system reform, which is to say it is the opposite of what its name implies. . . .
This echoes how I'm thinking about health care increasingly. Strategically, leftists should hammer a theme that mirrors the headline of this piece. First the DemoRepublicans bailed out the banks when they screwed up, with no reform required. Now the DemoRepublicans want to bail out the health care industry.
The above is based on the assumption that the final health care bill -- which we can assume with reasonably strong confidence (the 'caving' by 'liberals' like Durbin has already begun) will be Senator Baucus's bill -- will primarily change U.S. health care in three ways: costs will be transferred from the hospitals and health care industry to the federal government, Medicare and Medicaid and other cuts will pay for that, and everyone will be forced to get health insurance, however unaffordable. Essentially NOTHING will be done about health care's skyrocketing cost, which is the main and very large problem for most of us.
Even if the above depressing realism about the final bill is inaccurate, disruption and noisy opposition to the features of 'the bills' that are sell-outs to corporate interests might make the final bill a little better, right? Or it might make the House progressive caucus finally bail on the monstrosity, which would rightfully frame the final bill as a product of conservative/moderate Republicans and Democrats.
Back to Lindorff:
Instead of opposing the right-wing hecklers at these events, progressives should be making common cause with them. Instead of calling them fascists, we should be working to turn them, by showing them that the enemy is not the left; it is the corporations that own both Democrats and Republicans alike.

The only proper approach to the wretched health care legislation currently working its way through Congress at this point is to kill it and start over. At these "town meeting" staged events, Obama and the Democrats need to hear, in no uncertain terms, that we don't want no stinkin' ObamaCare. We want Medicare for all.
For organizing opposition to the bailout, Russell Mokhiber's organization, singlepayeraction.org, might be a good place to start. Put into the comments other good places, please!
Tags: Health care (all tags)