Obama v Clinton, vote totals [Update: 50/50!]
by fairleft, Mon Mar 10, 2008 at 10:01:37 AM EDT
{UPDATE: Yer lameness had the Arizona vote totals wrong (thanks minvis!). So, I take most of what follows back . . . Obama in fact, using my calculations, leads Clinton by 82,781 votes. She has 12,687,081 primary votes and he has 12,769,862. Obama leads Clinton
50.16% to 49.84%
.}
NEVERMIND: I realize it may be hard to read the chart below, but I see an excel spreadsheet as the only way to question the vote totals in Max Fletcher's What will it take for Clinton to catch Obama in the popular vote?, at openleft and at mydd.
NEW CHART W ACCURATE nearly 50/50 vote split: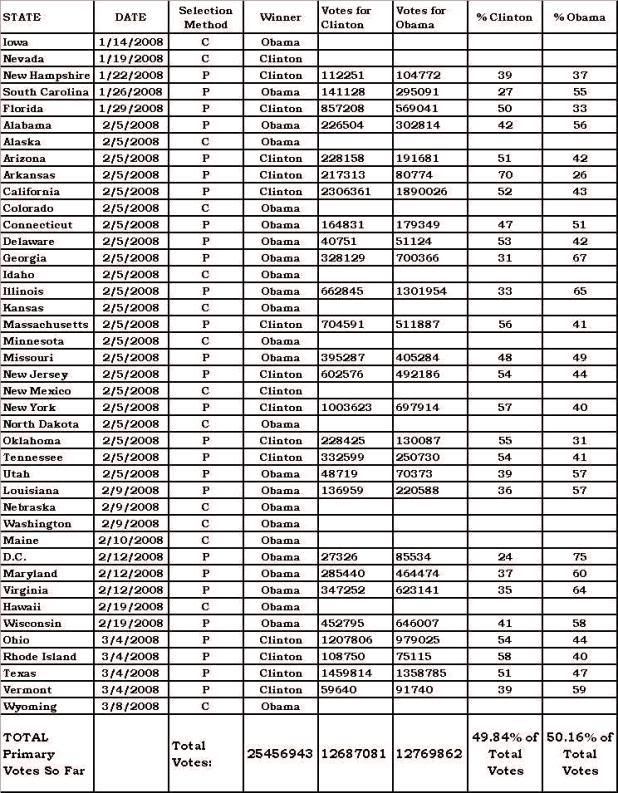 My particular take is the one that is most fair-minded but that neither Obama nor Clinton wants, that the Florida results should be counted and the Michigan results should not be, as it was unfair and undemocratic in Michigan not to have Obama on the ballot, while the Florida primary election was nearly perfectly fair to both sides. Also, caucus 'votes' should not be counted, as they are biased away from 'average voters' toward activists.
NEVERMIND: Nonetheless (Obama supporters), my spreadsheet shows Obama leading Clinton by 1,802,781 primary votes. In percentage terms, he leads her 53.3% to 46.7%.
NEVERMIND: I take all my data from CNN Election Center, where exact vote totals are provided. NEVERMIND: Again, I don't see how Fletcher and his source, Real Clear Politics, arrive at an Obama "592,682" popular vote lead. Much too small.
Tags: Barack Obama, Hillary Clinton, Primary Elections (all tags)