Hillary to Israel: Let the Humanitarian Aid In!
by fairleft, Fri Feb 27, 2009 at 10:19:59 AM EST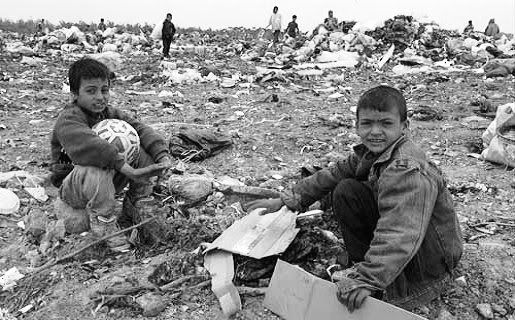 It's nice when a U.S. Secretary of State gets pissed off at and does something about the flagrant inhumanity of the main recipient of U.S. foreign and military aid, Israel:
Clinton warns Israel over delays in Gaza aid

By Barak Ravid and Avi Issacharoff, Haaretz Correspondents
February 27, 2009

Secretary of State Hillary Clinton has relayed messages to Israel in the past week expressing anger at obstacles Israel is placing to the delivery of humanitarian aid to the Gaza Strip. A leading political source in Jerusalem noted that senior Clinton aides have made it clear that the matter will be central to Clinton's planned visit to Israel next Tuesday.

Ahead of Clinton's visit, special U.S. envoy to the Middle East George Mitchell is expected to issue a sharply worded protest on the same matter when he arrives here Thursday.

"Israel is not making enough effort to improve the humanitarian situation in Gaza," senior U.S. officials told Israeli counterparts last week, and reiterated Washington's view by saying that "the U.S. expects Israel to meet its commitments on this matter."

Two weeks ago, four senior European Union officials sent a letter to the prime minister, foreign minister, defense minister and Yitzhak Herzog, the minister charged with humanitarian aid transfers to the Gaza Strip, protesting delays in the flow of aid through the crossings into Gaza. . . .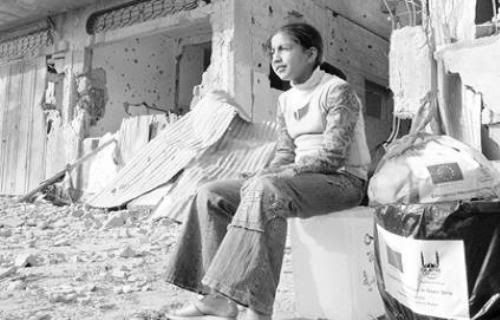 Now don't back down girl! Of course, the Israel Lobby quickly responded (and reported; WCBS doesn't allow readers to know what Clinton said that made seemingly 'everyone' so angry):
Feb 27, 2009 9:34 am US/Eastern
Jewish Leaders Blast Clinton Over Israel Criticism
Zuckerman, Lawmakers, Local Jews Say Secretary Of State Not The Hillary Clinton They Used To Know

. . . On Thursday, as Secretary of State she had yet another about face in the form of angry messages demanding Israel speed up aid to Gaza. Jewish leaders are furious.

"I am very surprised, frankly, at this statement from the United States government and from the secretary of state," said Mortimer Zuckerman, publisher of the New York Daily News and member of the NYC Jewish Community Relations Council. . . .

"I don't believe that we should be in a position at this point to do anything to strengthen Hamas," Zuckerman said. "We surely know what Hamas stands for as I say they are the forward battalions of Iran."
Yes, uh right, Iran's forward battalion, but do you include civilians in the battalion? I.e., is Hamas's dastardliness a reason not to give food and shelter to Gaza's children?
Here's generally what Clinton is pissed off about:
The gates to Gaza slammed shut again on Thursday, February 5, the day our three-person group departed Gaza, having been allowed in for only 48 hours. The Egyptian government closed the border crossing into Gaza, continuing the sixteen-month international blockade and siege. The crossing had been briefly open to allow medical and humanitarian supplies into Gaza following the devastating 22-day attack by the Israeli military. The attacks killed 1,330 Palestinians and injured over 5,500. . . .

Today, seventeen days after the gates swung closed on Gaza, they remain firmly locked. . . .

For the people of Gaza, rebuilding their homes, businesses and factories is on hold. Over 5,000 homes and apartment buildings were destroyed and hundreds of government buildings, including the Parliament building, were smashed. Building supplies, cement, wood, nails and glass will have to be brought in from outside Gaza. Two cement factories in northern Gaza were destroyed by Israeli bombs.
The EU's Benita Ferrero-Waldner, the European Commissioner for External Relations and Neighborhood Policy, talks about the "disastrous humanitarian situation in Gaza," and adds:
"[T]he crucial problems at the moment are not related to funding but to access."

"In the aftermath of the crisis, a clear priority remains the immediate and unconditional reopening of all Gaza crossings on a regular and predictable basis, for the flow of humanitarian and commercial goods as well as people," she said.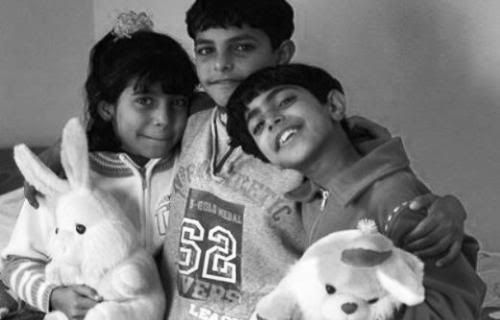 C'mon Israel Lobby, c'mon America's Israel supporters, how about putting some pressure on the government of Israel to treat the people of Gaza with common decency. Look at the pictures! Do it for duh children!!
Thanks to Blue in SC and MD (in 'The Lobby should shut up') for cluing me in to Clinton's solid move, expending some political capital and defying the Israel Lobby in order to help out a group of truly screwed over civilians, half of them children. Ain't something done lightly.
Tags: Gaza, Hillary Clinton, humanitarian crisis, Israel (all tags)