Anti-Hillary Pseudo-Left Disappears Olympics Boycott
by fairleft, Wed Apr 09, 2008 at 08:51:20 AM EDT
And I often wonder, "If Dr. King were here, and Robert Kennedy were, what would they be doing?" So someone must continue to speak up and speak out, because they're not here.
Because Hillary Clinton took the lead in urging Pres. Bush to boycott the Olympics opening ceremonies, and because Barack Obama just can't follow her lead since Chicago 2016 means so much to his developer fat cats back in Chicago, the pseudo-left has decided to disappear the Olympics boycott movement in service to Barack Obama.
For example, here's everything on the Dailykos frontpage since Monday on Tibet and/or the Olympics:
. . .
Or check out Huffington Post. Here's the only thing (aside from a GG Bridge protest news note) on the front page:
Speaker Nancy Pelosi
On the San Francisco Olympic Torch Relay
Posted April 8, 2008 | 05:08 PM (EST)

She tells people to be nice. She doesn't mention her and Clinton's call on Bush to boycott the opening ceremonies.
Here are the only two Olympics-related articles on the HuffPost politics front page:

David Wallechinsky
How to Protest the Beijing Olympics

Another 'be nice' article, it doesn't mention Clinton, or Obama's whimp out.

Adrienne Maree Brown
The Whole World is Screaming: Free Tibet

Doesn't mention Clinton or Obama.

Not a damn thing on alternet either.
As usual, a progressive campaign is disappeared if it's a negative for the fake progressive candidate. Anyone else think this reminds them of the pseudo-progressive stand down on Iraq during the Kerry campaign? Of course, in place of real progressivism, there are plenty of lies and other anti-Hillary gotcha crap available at both dkos and huffpost. Or is it anti-Bill-Clinton stuff that pseudo-prog readers, like their loony right sexist brethren, have been trained to think is anti-Hillary stuff?
The only good news on the "boycott the opening ceremonies" front is made by the very honorable John Lewis:

Lewis: Boycott Olympics opening ceremonies
By JEFF SCHULTZ
The Atlanta Journal-Constitution
Published on: 04/09/08

U.S. Rep. John Lewis, no stranger to protests and boycotts during his career, has joined the growing list of those seeking at least a partial boycott of the Beijing Olympics.

"I'm not saying right now there should be a total boycott of the Olympics," the Georgia Democrat said by phone. "I just think we should not attend the Opening Ceremonies. At the same time, even if we attend, we should find a way to make it clear to the government of China that we are standing with the people of Tibet. Their civil rights and basic human rights shouldn't be trampled on."

Lewis was among 15 House members who last week signed a letter by U.S. Rep. Maxine Waters (D-Calif.), urging President Bush to not attend the Olympics. . . .

Lewis, 68, was a central figure in the civil rights movement. He was inspired by the Montgomery bus boycott in 1955 as a youth and helped organize sit-in demonstrations at segregated lunch counters in Nashville, among other causes.

John Lewis is a real leader. In 1965, he led 525 marchers across the Pettus Bridge in Selma, Alabama. State troopers attacked the marchers in a violent incident that became known as "Bloody Sunday."Here are some photos telling what happened: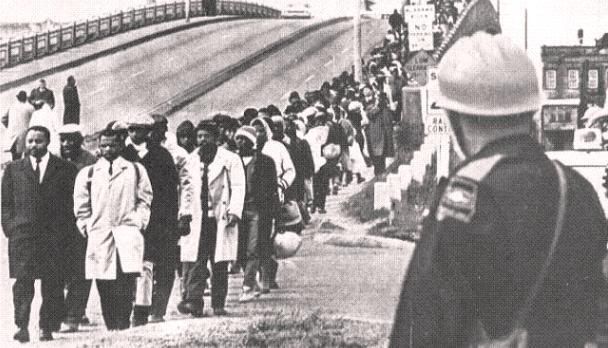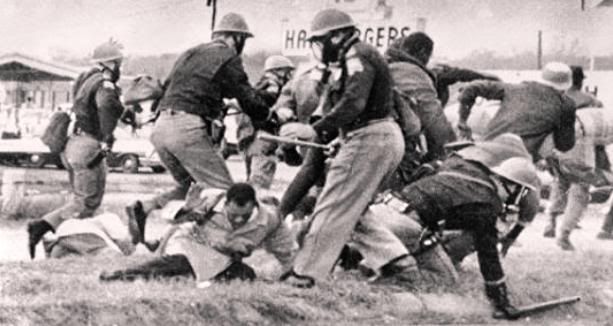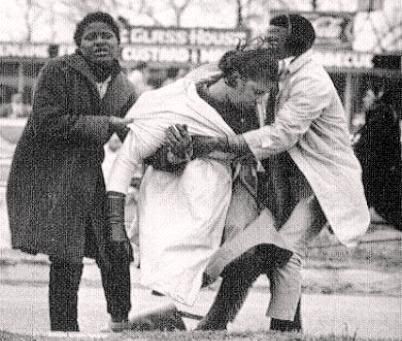 You can read more about the Selma to Montgomery marches here. The marches and the worldwide attention they brought on the U.S. led directly to President Johnson signing the Voting Rights Act of 1965. To read more about John Lewis and his inside view of the Civil Rights movement, go here. Here are some of his words to live by:
I still talk about the Beloved Community. I still talk about the one America, one family, one house. The American house, the world house, we all live in the same house. Sometimes I feel like I've passed this way once before. I think the movement and what I went through during the height of the Civil Rights Movement prepared me to stand up and fight for what I think is right and fair and just, but it also prepared me to be patient in a sense, to take the long hard look. That the struggle to redeem the soul of America, to create the Beloved Community, or to bring about change, is not a struggle that lasts for one day or one month or one year, but is a struggle of a lifetime.
The quote at the outset of this diary is also from John Lewis.
Take a stand Barack Obama. And pressure your hero, Obama supporters!
Tags: Barack Obama, Hillary Clinton, John Lewis, Olympics (all tags)