Reunited and It Feels So Good....
by Edna Howard, Fri Jun 27, 2008 at 02:41:26 PM EDT
posted with permission of diaristposted @ Daily Kos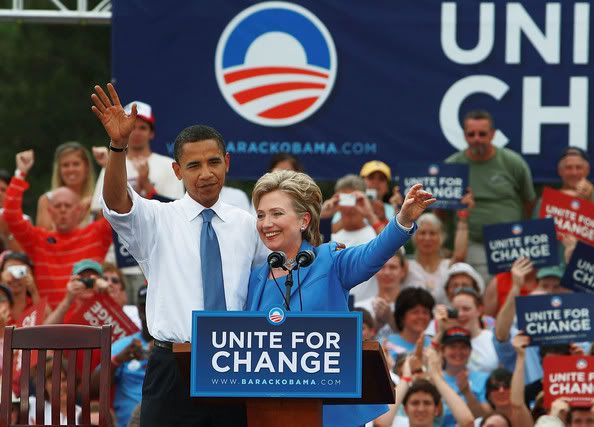 ::
Aw, yes.
Remember the Peaches and Herb smash hit from the 70s? Reunited and it feels so good...

for memory lane purposes, only
OK, maybe not all that, but when I was a kid, I loved that song.
The picture at the top is Hillary and Barack, reunited, together, forever, Democrats.
Reunited. The Democratic Party. Our big tent. Even though we constantly bitch at each other. We know when to shut up and enjoy the savor. That picture is it, above.
OK, we got a lot of stuff to do.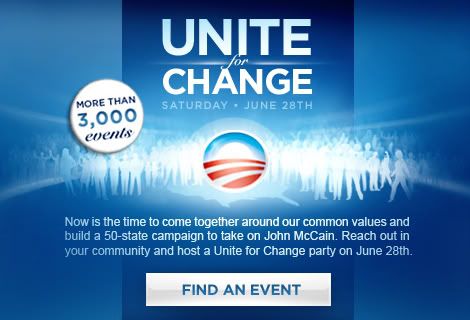 First, The Unite for Change houseparties, get togethers tomorrow. Click here to find out where the one near you is taking place. Over 4,000 in all 50 states. Make sure you are part of this.
::
Donate to Hillary to retire that debt!!! I, yes icebergslim, threw in 50.00. It was hard, but I decided to MOVE ON because Barack need to be in the White House. Show some good will, hold your nose, and donate.
::
We have a laundry list LONGER that EVAH. Barack Obama and the Democratic Party need money. Even if you are at odds, show some good will, hold your nose, click here, and donate to the Obama Campaign. We need to move on together.
Oh, you want a logo t-shirt, click here and donate 30.00.
Love the environment? Click here and get this cool t-shirt, by donating 30.00.
::
....if you need a reason to donate to either, slideshow, please:
::
and if you missed the speeches in Unity, NH, click here.
Tags: 2008, Barack Obama, Democrat, Election, Hillary Clinton, New Hampshire, president, unity (all tags)