Lets get real about Wright
by Drewid, Mon Apr 28, 2008 at 08:08:13 PM EDT
Lets honestly try and step outside our digital world and try and see things from the perspective of someone who doesn't surf the web from the perspective of our enightened views.
I find Rev. Wright to be a man of great intellect. I find his lectures informative and inspiring and consider him a man of great works. However that being said, let me tell you I and many of you are in the minority my friends. Watching the news in the past 24 hours has really disheartened me as to the status of the republic and the revolution we began over 200 ago. And in some ways, some users here have too. The media is absolutly swiftboating Wright and Obama, but Wright no matter how well intentioned and spoken, is playing right into their hands. No matter how much sense he may make overall in his performances over the past day, he is giving fodder to those who will play 30 second soundbites of his speaches. 30 second soundbites that are not flattering to Wright nor Obama. 30 second soundbites that that a majority of Americans will not agree with at best or find offense to at worst. As much as I'd like to hope for America to accept Wright, altogether good and bad, as a rightous man, I am increasingly of the opinion it will not happen through the soundbites the media will provide for Americas consumption. Wright as we can see is not one to shy away from adversity, but I do question the purity of his intentions in the fight he brought to bear against the media this past day. I feel it may in small part be about the mans pride, not that the man doesn't have many things to be proud about, but speaking out in defense of ones pride is rarely recieved positively. Rev Wright needs to step away from the microphone and let others defend him. From my vantage point, Wright isn't doin Obama any favors by going out and giving ammo to the traditional media and the wingnutosphere. So if some people think that maybee Wright should fade into the background, or possibly Obama should take this chance to, yet again damnit, distance himself from Wright, before you dismiss the person as a troll and ridicule them try and see things from outside our illuminated sphere.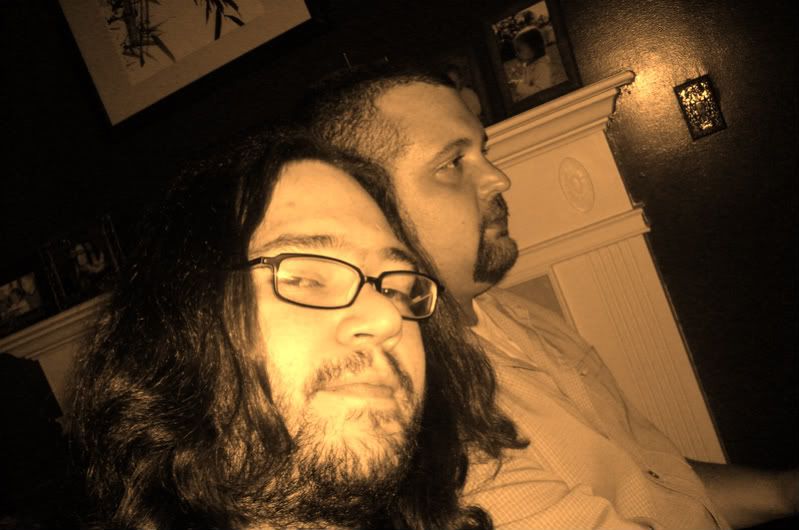 That's a pic my boy took of us while I wrote this diary. He thinks I'm, in his words, totally gay for engaging in such online activity. He agrees with everything I wrote, and is of the same mind. There was a delay in the publishing of my diary because we're supposed to watch "There will be Blood" together before I move to Vegas so went went to get it, but Blockbuster was closed, and Wal-Mart doesn't cary it cause they suck.
Yeah the third time I've been to a Wal-Mart in 6 years and I couldn't even get what I wanted.
Wal-Mart is the Devil.
Tags: Barack Obama, rev. wright (all tags)