Their Reality has Lapped our Satire, THREE
by dhonig, Tue Jul 15, 2008 at 08:11:35 AM EDT
Some of you old-timers might remember my first Their Reality has Lapped Our Satire diary, and perhaps even the second one, Their Reality has Lapped Our Satire, Again. Those diaries really came home to me this week with the New Yorker cover.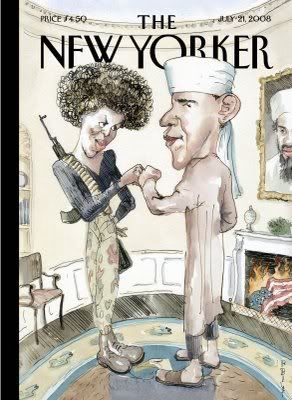 Was it satire? Absolutely. Was it rather ham-handed? Yes. But why was it so controversial? It was so controversial because the right's version of "reality" has gone so far beyond the absurd that it just can not be satirized. The New Yorker cover stands as proof that, yes, their reality has lapped our satire.
First, a review.
Two years ago I wrote:
How could you cartoon the religious right's confidence that this is a Christian country, and that anybody else is here at their sufferance? Let's diagram the issue, and see what comes from it. First, what is the greatest symbol in America of welcome? What is the most obvious national monument to open arms, the availability of the American dream to one and all? You got it- the Statue of Liberty. There is really no second choice. Okay, good. Now, how to use the Statue of Liberty to caricature the religious nuts? Well, maybe we could replace the torch, the beacon lighting the way for one and all, into an exclusive symbol, marking the way for only Christians. Got it? Right, replace the lamp with a cross. But wait, we need a little more. What to do with her other hand? She's holding a tablet, remember? It has July 4, 1776, on it, the day we declared our independence. But hey, it's a tablet. You know what to do. Replace that silly date with some commandments. But there's one more problem- that pesky poem welcoming non-Christians. That has to go. Let's replace it with the commandments again. After all, "shalt nots" are a lot more fitting with the whole theme that language of welcome. Okay, we're ready to draw a cartoon, one that will really skewer the right, really cut to the heart of their hatred, their bigotry, their hypcrisy. But before we do, let's do a quick check of the internet, just to make sure we're not doing something that's already been done. What do we find?

This is real. A church in Tennessee spent a quarter of a million dollars on this thing. Jesus says feed the poor, the Commandments they worry so about say something pretty clearly about "graven images," and they build this?! Seriously, their reality has truly lapped our satire. When a church spends a quarter of a million dollars building the very thing, and being serious about it, that you would draw as a cartoon, then pen is simply dry. There is nothing left to do but crawl into a corner and whimper.

Their reality has lapped our satire.
That was an interesting diary for me. It was one of my first truly successful ones, getting so many recommendations you have to scroll down the page to see them all. The phrase even worked its way into the vernacular. If you google it, you will find it in other places, other people using it. That was kind of cool.
Then came the second diary. Again, it was about what passes today for religion on the right.
Okay, every day we see electricians vans, yellow pages, billboards, advertising companies and products as "Christian," like that means the plumber won't overcharge us because he goes to the right church on Sundays. As a cartoonist, if I were to try to make fun of this kind of marketing, what might I come up with? If I sat down to draw a cartoon and TRIED, I mean really TRIED, to figure out how to satirize the marketing of Jesus, the ideas I would come up with would probably be candy bars or perfume.

Candy bars- don't just save it for Sundays, eat the Lord whenever you need a little pick-me-up.

Perfume (and this is really the ultimate irony)- nothing attracts a man like the provocative scent of Jesus. A dab between each ear, and maybe a bit between the breasts and down "there," and you'll be born again, and again, and again. They don't call it "The Second Coming" for nothing.
That did not work out either: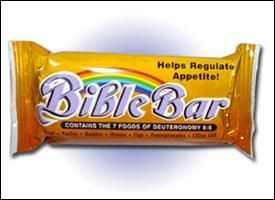 And now, today (well, yesterday if you must pick nits), the New Yorker hit us with its infamous Obama cartoon. It picked up on the most absurd and paranoid fantasies of the extreme right. If that were a tiny minority of crazy people dressing up in camo and running around in the woods of Idaho waiting for the rapture, it might have been hysterical. Unfortunately, the level of craziness that makes the satire collapse is the mainstream right wing these days. Let me show you what I mean. Here are some of the pictures and bumper stickers to be found for sale, being mass marketed, on the internet today: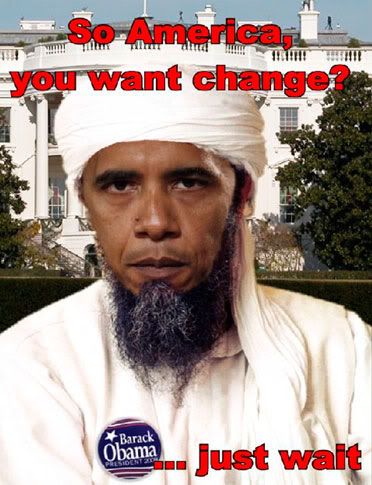 Do you remember the stories about Obama being educated in Indonesia?
and this kerfuffle (unfortunately pimped by Drudge and re-pimped relentlessly right here, blaming the Clinton camp, but that's another story)?
and of course, this?
Folks, there is a very large part of our population that really believes the Democratic nominee for President of the United States is an unpatriotic closet-Muslim. And, of course, "Muslim," by definition, means jihading anti-American al Qaeda terrorist. Doesn't it?
So when the New Yorker publishes a cartoon that should have been screamingly obvious satire to everybody, it doesn't work. It gets so close to the right-wing looking glass version of reality that we scream "UNFAIR!" and they howl "WE TOLD YOU SO!"
Their reality has lapped our satire.
Again.

Tags: Barack Obama, New Yorker, satire (all tags)