Why You Can't Trust the Official Election Results!
by DerekLarsson, Tue Jan 08, 2008 at 04:23:47 PM EST


We have seen error filled Elections and Election Results ever since 2000. It has become so commonplace now, that they occur every Election cycle (including in 2006 with FL-13, NC-09).
Reported from www.bradblog.com:


For those in the media interested in actual concerns about the integrity of today's NH Primary, we'd strongly recommend the following video primer. In it, you'll learn that the Diebold optical-scan system used across most of New Hampshire can be easily rigged by insiders, and only if the paper ballots are properly audited by hand, in some fashion (some 40% of precincts still count paper ballots by hand, at the precinct), can the results of the op-scanners be trusted in any way, shape or form.

The paper ballots used in the New Hampshire Primary will actually be counted by the hackable Diebold optical-scan systems used in the state, as controlled and programmed by a known bad private contractor.



Recall just what had happened in 2004: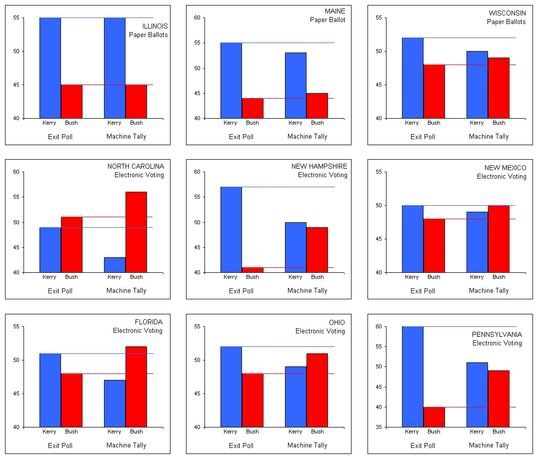 Reported from www.bradblog.com:


The machines used in New Hampshire, are the same ones seen being hacked in HBO's documentary, Hacking Democracy. As well, a single private company with a very bad record, LHS Associates, Diebold's distributor and technical contractor in New England, runs the elections and controls the vulnerable memory cards for the voting systems across the state. That company, has a horrendous record of lax security policies and has admitted to having replaced memory cards, on a whim, on their own, in the middle of past elections.

The video below shows LHS Associate President John Silvestro challenging Finnish computer security expert Harri Hursti, during testimony in New Hampshire, after Hursti's landmark hack of a Diebold optical-scan machine in late 2005 in Leon County, FL, as seen in Hacking Democracy. That hack is again shown in this video, courtesy of BlackBoxVoting.org...






Watch this video all the way through and you can see how corrupt this is.



Article Link at:
http://www.bradblog.com/?p=5529#more-552 9


These Election Results cannot be trusted, folks.
Tags: BradBlog, Diebold, Election fraud, exit polls, Robert Kennedy Jr. (all tags)