McCain's "One" Response - M25 Network
by cardboard 1, Tue Aug 05, 2008 at 12:44:55 PM EDT
Friends,
This is Grant from the Matthew 25 Network. By now you have probably seen the McCain campaign's "The One" Ad. I wanted to provide somewhat of a "special comment" on this ad. Because, I think many who don't come from an evangelical context may miss the point. At the bottom of the page there is a link for our petition to call upon Sen. McCain to renounce these ads, but first I want to walk through why they are so troubling.
The McCain campaign is claiming that it is "humorous,""a joke," and "a little fun." Well here is the ad...and below the fold we'll tell you why this is anything but a joking matter -

For many this ad will appear to be a joke, a silly campaign tactic, and little more than a distraction. But this ad was not done by some campaign volunteer with a bit of editing experience for (as McCain suggests) his supporters amusement. This was a professionally cut, edited, and produced ad full of sinister dog-whistles for evangelical ears.
At best it is suggesting supporters of Obama are idol-worshipers. At its worst it is suggesting that Sen. Obama is some kind of anti-Christ.
The McCain campaign is unquestionably targeting the 44 million+ Americans who have read the Left Behind series. The mmakers of the ad chose all of Obama's quotes very carefully and filled it with image after image equating Senator Obama to the anti-Christ, and especially to Nicolae Carpathia, the anti-Christ in the popular end times novels.
This is where religion and politics goes bad. We've seen this game before in history - suggest your opposition is the anti-Christ. Sadly I never thought I'd see it from the nominee of one of America's main political parties. The ad plays on fears well beyond the economy, terror, or war - it plays on what are foundational scriptural fears for many people, the very end of the world. That ad is flat-out dangerous, irresponsible, and heartless.
The title or the ad is set up to immediately remind anyone familiar with the Left Behind series of the name of the false church set up by the anti-Christ - "THE ONE World Religion."
The text and voice over are exact copies of previews for Christian Specific end-times movies.
The images and quotes the McCain camp employed all allude to symbols of the anti-Christ. If the McCain campaign were simply cutting an ad about Obama being an idol that would be offensive enough; however, there are just too many parts of this ad which make no sense, for a professional production, unless they were trying to suggest Obama is the anti-Christ.
So you know we are not just talking about John Hagee end-times believers here. This is an ingrained fear for many Americans - here is some data concerning how widespread Premillenialist views are:
A Time Magazine poll that came out after the 9/11 attacks found that 1 in 5 Americans believe the world will end in their lifetime; 1 in 4 felt 9/11 was predicted in Revelation; and 1 in 3 Americans who support Israel said they do so because they believe Israel must reconquer the Promised Land for Christ to return.
The ad goes as follows:
NARRATOR: It should be known that in 2008 the world shall be blessed. They will call him The One.
The anti-Christ, in the Left Behind series, Nicolae Carpathia set up a religion called THE ONE World Religion. Carpathia started his career as a young charismatic junior Senator. He made his rise, with Satan's support, by spreading a message of unity, hope, and peace, in an anomic world in the wake of the rapture.
OBAMA: A nation healed, a world repaired...we are the ones that we've been waiting for.
The slogan of the One World Religion, in the Left Behind Series, is, "We are God." This line from Obama is taken from its political context and placed in religious context. This is the supposed message of the anti-Christ.
NARRATOR: And he has anointed himself ready to carry the burden of The One. To quote Barack: "I have become a symbol of America returning to our best traditions." He can do no wrong.
This whole phrase is a direct scriptural reference to the task of the anti-Christ. The entire character, as depicted by scripture, is suppose to be "burdened" or "tasked" with becoming an idol (symbol) of people's faith.
Lastly, I want to talk about some of the images the McCain Campaign employed.
Here is the cover of the final Left Behind novel -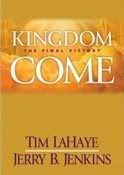 You may notice that the fonts and clouds are the same as in McCain's ad. The font may be excusable, as it is a common font. However, why the clouds? And if you are depicting somebody as a "messiah" as many have reported the ad, not an "anti-Christ," then why the scary yellow clouds over ecstatic worshipers?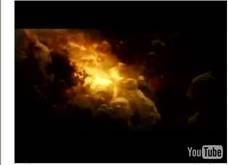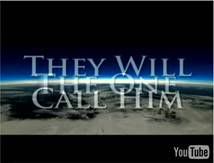 (The World is also an allusion to the State-Run Broadcasting Network in the Series)
(The World is also an allusion to the State-Run Broadcasting Network in the Series)
One or two little instances would have been one thing. However, if you have any experience with modern end-times belief you can quickly recognize that was the attempt. This ad is Desperate. It is Dangerous. It is Wrong.
The Matthew 25 Network has started a petition to expressthe wish of the Christian community to stop playing on our brothers' and sisters' fears, and to return to his promise to campaign in a civil and upright manner. Here is the text of the petition:
Senator McCain,

As fellow Christians, we are deeply troubled by your campaign's latest ad entitled "The One," which portrays Senator Obama as some kind of would-be Messiah and implies that those who support him are cultish followers looking for a new Savior.

We find it beyond offensive for you to piece together out-of-context video snippets to suggest that Senator Obama is a false Messiah or the anti-Christ, especially in light of Senator Obama's open and humble confession of Christian faith.

Instead of seeking to inspire false fears, we would prefer you speak more positively about how your own faith would guide you in leading this country.

We trust that this desperate and insulting campaign tactic is not an indication of your true character, and we call on you to repudiate this ad and take it down immediately.

Sincerely,

You can sign the petition here.
And please spread the word to help counter these sinister attacks. Tell your friends about the petition - particularly if they're people of faith.
Thanks,
Special Thanks to Eric and Burns from the Eleison Group for their input!
Tags: Barack Obama, Evangelicals (all tags)