Hillary Clinton already sworn in as Secretary of State
by Beltway Dem, Wed Jan 21, 2009 at 02:28:12 PM EST
The New York Times reports that Secretary Clinton, after sending letters to Vice President Biden and Governor Patterson resigning her Senate Seat, was sworn in at 5:29. The State Department web site confirms she has been sworn in.
This picture of Secretary Clinton being sworn in is from the the State Department web site.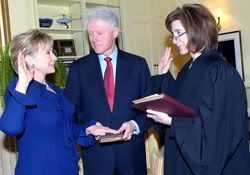 The picture suggests that President Clinton held the Bible for his wife's swearing in ceremony.
Tags: Hillary Clinton (all tags)