wake UP!!!!
by amde, Thu Apr 24, 2008 at 04:53:15 PM EDT
This is a HOW TO guide in beating the republicans. So I posted a diary yesterday about the strategy the democrats should adopt if we want to win the White House come November. I am gonna keep writing about this until people wake up from their selfish candidate slumbers. Some people disagree as to who will be our nominee, but one thing is certain: we have to go all out to win the presidency.
As of right now the tracker still indicates that both
candidates will lose against McCain. This is troubling, more trouble for the future nominee because no matter how you slice it, Obama and Clinton are losing.
So what should be our strategy for winning?

History teaches so many valuable lessons all we have to do is look.So lets look at key demographics and the states that previous Democratic President has won.
1992: Clinton v. Bush

REPUB = BLUE; RED=DEM. [the map shows a county breakdown of the results, the shades of blue go republican while all shades of red and pink go democrat (I don't know why they switched up the colors like that)]
And some poll breakdowns of who voted for who....
Clinton lost these demographics:
-Conservatives
-Southerners (by 2%)
-The income groups of $50-74,999 and over $75,000 (by 3%)
But came close to winning these demographics:
-the midwesterners
-independents
-the age group of 50-64
Clinton was very successful with moderates and all the minority groups as well young people and the 65 and overs. The Clinton electoral map should be a map that the 2008 Dem. Nominee should try and accomplish, it was obviously successful but it also brought the country together with the philosphies of liberals, moderates, and conservatives voting for Bill. WE need this kind of unity between the three philosophies if we want a win...
Now 2000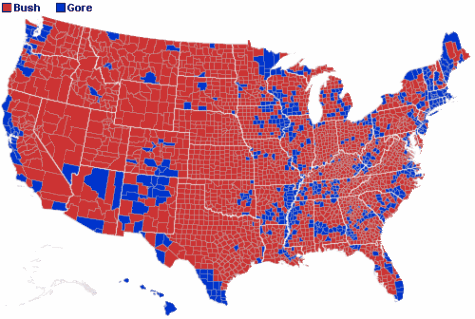 If you'll notice where Gores weaknesses were in the Midwest and rural areas. Red dominates the map and that is something we need to change, if we want a solid victory....
2004...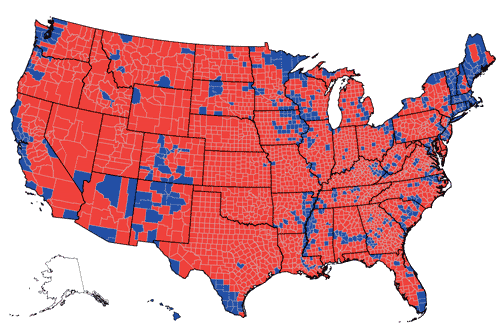 It looks relatively the same as 2000 and that is where Kerry failed. He failed to go beyond the conventional areas the Gore picked up. Kerry and Gore failed in picking up moderates and conservatives that the Democratic party, whether you believe it or not, needs to claim victory. The 2008 nominee will need to go further than both Kerry and Gore, they will need to go to the length that Bill got in 1992, if not it spells out a loss for democrats in the year we though we were invincible in.
I think that Hillary has a better chance than Barack in bringing the three philosophies together as well as catching the groups that have been so illusive to the past failed dems of 2000 and 2004.
I think that in theory, the two candidates are much stronger together though because they bring in all the demographics Bill got in 1992. Obama brings in independents and the all important youth vote, while Hillary brings in the 50-64 age groups as well as moderate conservatives and the rural vote. Together they are much stronger than they are apart. While we shouldn't take our usual demographics for granted we should definitely try and reach out to those demographics that have gone democrat in the past but did not for the past election.
People like my dad, who believes in democratic values and is an independent, but will go republican if he doesn't like the democrats. While most of us don't get this type of mentality, there are people that vote solely on gut feelings rather than on issues alone. People like my mom who absolutely loves JFK and is a life-long democrat but voted republican in 2004, because she thought Kerry couldn't get the job done and frankly just didn't like him or trust him. These are the demographics at risk if Obama gets the nom....
Hard-core democrats are just that, HARDCORE. Meaning they will vote democrat no matter what. We need to focus on those people like my mom and dad who base their votes on instinct and their own judgment; otherwise we are in for a terrible loss come November. I have tried and tried to convince them that McCain isn't worthy of their vote, but the damage is done. They are uneasy about where this party is going. Life-long dems are uneasy about what is going to happen this year and its absolutely horrible.