Update on DailyKos Writers Strike
by alegre, Sat Mar 15, 2008 at 07:30:34 PM EDT
Wow - I never expected this kind of a reaction to my declaration of independence from DailyKos last night but it seems I wasn't the only one who's sick and tired of being sick and tired over the hate, ignorance and hostility directed at Hillary and her supporters. Now I won't link it here as I normally would because I don't want to drive traffic to the site, but my post made it up on to the Recommended list with over 60 recs, and well over 1200 comments posted (good, bad and meta). I hear they eventually had to shut off comments for fear of the site crashing because of it all.
First I want to thank everyone who signed on to our strike. This will only work though if we stick to it and stay away from DailyKos guys. No lurking. No peeking in. No tipping, rec'ing, commenting and for god(dess) sake - no diaries. They get no traffic from us. No ad revenues. Not until they stop the hateful attacks, misrepresentations of Hillary and her record, and outright lies about her long record of dedicated public service.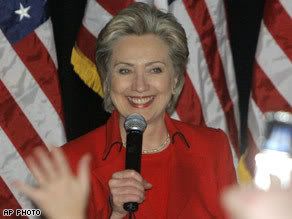 Make the jump for an update on our strike...
I think it's important for us to thank Jerome for providing us exiles with a calm and reasoned place for us to exchange ideas and discuss the important issues of the day. He not only left up my cross-post here knowing I was calling for a walkout from his friend's site, but he went and recommended my diary over there to tell everyone that he agreed with what I was trying to do - bring attention to the poisonous atmosphere in the hopes that DailyKos will one day return to it's roots by promoting all good and decent Democratic candidates.
The best way we can thank Jerome and the others here at MyDD is to keep it cool when we post here. Try out best to ignore the spammers and haters, and follow our candidate's example by sticking to the issues and staying out of the flame-wars.
Now I've gotten quite a few emails over the past 24 hours. Some are from the haters who say eff you I hope you all die but hey, I expected that. I won't bother posting them here but I think they draw a sharp contrast between Obama's and Hillary's supporters. I don't know about you but I would never think to send a nasty note to someone simply because I disagree with their choice of candidate. Apparently, his supporters saw fit to send me nasty notes though (one guy even sent several!).
But I've also gotten some warm and wonderful notes from people hoping to join our "strike". I thought it'd be great to share a few here...
A sincere thank you for s
Tags: 2008 elections, dailykos, Hillary Clinton, president (all tags)