Hillo with Billo (UPDATED w Video)
by Al Rodgers, Wed Apr 30, 2008 at 03:58:26 PM EDT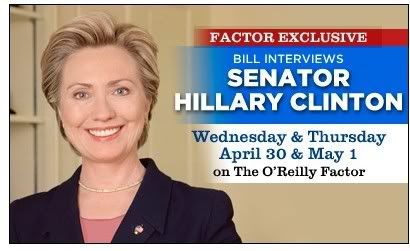 Hillary Clinton is about to step into the lion's den and put O'Reilly in his place.
Caution: you're about to enter a no-spin diary!
Teaser: The first question will be on Rev Wright.
Take the Poll:
Update [2008-4-30 20:49:33 by Al Rodgers]:
Now the fair and balance Dennis Miller is hammering her. Calling her out for working for Walmart. And he's engaging in sexist stereotypes, calling her some "Eve" who will stab Billo's "Adam" in the back. HA! Miller is now whinning about his taxes. Isn't this what it is all about, on their side. Now Billo is SCREAMING that "DAILYKOS IS DONE !!" He says they're done because Hillary went on his show, and thereby breaking Dailykos' stranglehold on Democrats. This guy is funny. Miller is screaming about Dailykos. Geez, who knew they got under his skin. Billo is screaming that Rev Wright is rich and has "bling". To Miller's credit, he says he doesn't care if Wright has any money. Billo goes on about the "HATEFULL LEFT WING BLOGS" like dailykos. HA!
PART IPART II
Tags: bill o'reilly, Fox, Hillary Clinton (all tags)