by MacWilliams Kirchner Sanders, Tue May 15, 2007 at 09:17:01 AM EDT
For most of the last 30 years, the conventional wisdom in political campaigns - at least at the federal level - was to spend most of the advertising budget on broadcast television. It may have made sense when broadcast TV was the dominant medium, but it doesn't make sense today.
The past decade has brought an explosion in new ways to communicate with voters that, combined with new technologies, has made it possible to reach specific, narrowly targeted voting segments. While online ads, mobile communication, and social network organizing all should be considered as part of a campaign's communication planning, one of the biggest shortcomings of Democrats and progressives (as described in yesterday's post) is their failure to take advantage of cable television's microtargeting potential.
A couple facts: In 2002, for the first time, a bigger share of the TV audience was watching on cable than on broadcast. In 2006, 56% were watching on cable and just 44% on broadcast TV.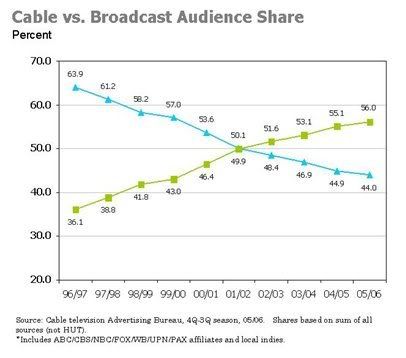 So why do so many political consultants continue to recommend that candidates dump most of their communications dollars into broadcast TV?
More after the jump.