by Inoljt, Mon Nov 16, 2009 at 11:40:09 AM EST
This is the third part of a series of posts analyzing the swing state Ohio. The last part can be found here.
Like most states, Ohio contains several swing areas. Some lean Democratic; others lean Republican. A good politician will usually pick up most of these regions on his or her way to victory.
Swing Ohio
The following map provides a sense of swing Ohio.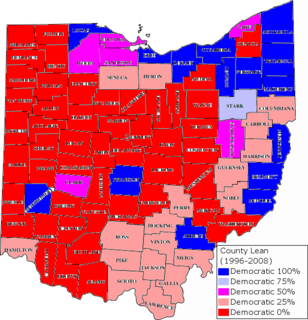 Providing balance, the map encompasses two solid Democratic victories and two solid Republican victories. Bearing this in mind, one can readily make out the structural "7" of Ohio politics. Absent three counties, swing Ohio roughly encompasses the outer edges of Ohio's northern and eastern borders, creating a shape that resembles the number "7." Strong Democrats win these swing counties and fatten the "7." Strong Republicans do the inverse.
More below.