by francislholland, Tue Feb 20, 2007 at 04:26:05 PM EST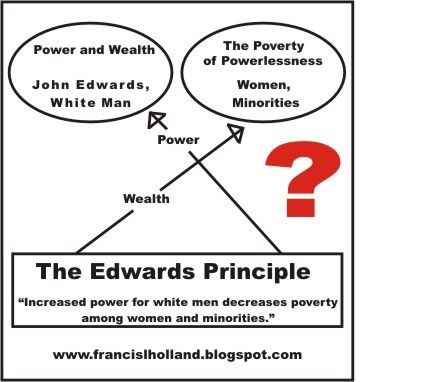 Cross-posted at http://francislholland.blogspot.com/
This is an historical and political analysis of the central premise that underlies John Edwards' claim to the Presidency. This essay asks and explores the question, "Why Will Electing John Edwards Raise Women and Minorities Out of Poverty?" Everything in the above graphic represents only my own original paraphrased appreciation of the thrust of arguments made by others.
Everyone who has superficially studied the problem of American poverty knows that, although all demographic groups are represented among the poor, women and minorities are more likely to be poor than other segments of our society (e.g. white men).
In fact, historical patterns of discrimination that legally prevented women and minorities from buying and owning property, opening bank accounts, and moving to areas where opportunities were greater - all of these governmentally sponsored factors and more led to the feminization and the "racialization" of poverty. The poverty of Blacks began when we were forced to work for free, with government returning us to our "owners" if we escaped slavery with the intention of being paid for our own labor.
In light of this history of the causes of poverty, it is quite impossible to talk about alleviating poverty without discussing how to systematically root out the carefully lain government sponsored roots of poverty in de jure and de facto gender and color-based discrimination. To the degree that there is anything at all that the government is still doing that intentionally or effectively disadvantages the target populations of a proposed new poverty program, to be effective in alleviating poverty government must stop doing anything and everything that has historically led and continues to lead to the feminization and colorization of poverty.