by joelado, Thu Mar 22, 2007 at 06:33:36 PM EDT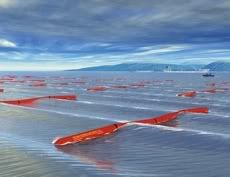 Wave Power Generation by Ocean Power Delivery being installed off the coast of Spain.
I was asked to respond to the following statement. "Joseph, would you address the issue that electricity is a secondary energy source? While its use would lead to cleaner cars, it will still be necessary to generate the energy to be converted to electrochemical form. The Second Law of Thermodynamics says that energy is lost at each stage when we transform energy from one form to another. The heavy reliance upon personal vehicles will still demand a greater and greater consumption of energy. We will simply move the source of local pollution away from drivers, but how will [it] bring energy consumption down and minimize environmental destruction? "
First of all energy is found in many forms, many of which we name and think of as substantive, but they are not substantive. Electricity is equal to the movement of your hand, is equal to sun shine, is the heat coming off the highway, the differences are just spectral.