by Screwy Hoolie, Mon Feb 26, 2007 at 07:21:00 PM EST
{c/p @ Scrutiny Hooligans}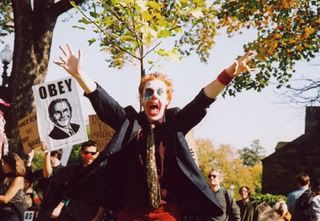 {pic}
Yesterday it was Sy Hersh explaining that the Bush administration is funneling money to radical Sunni groups to combat Iranian Shiite influence as the DoD draws up a 24-hour rapid attack strategy.

"The Saudis and some in the Administration have been arguing that the biggest threat is Iran and the Sunni radicals are the lesser enemies. This is a victory for the Saudi line."
Today it's news that Pakistan has
dismissed the idea
of doing any more to catch bin Laden or rein in terrorists within their borders while
test firing a ballistic missile
with a 1,200 mile range. The missile is nuclear capable.