by joelado, Tue May 08, 2007 at 07:29:02 PM EDT
One of the most pervasive views that I have worked hard against is that electric vehicles are small, slow, derivatives of golf carts. Golf carts may be slow, but electric vehicles never have been.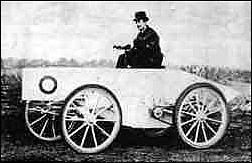 The Count Gaston de Chasseloup-Laubat of Paris, France on his electric vehicle the Jeantaud landspeed.com
I just want to set the record straight. The first speed record ever recorded for an automobile was done on December 18, 1898 in an electric vehicle.