by Manic Lawyer, Wed Jul 23, 2008 at 12:25:17 PM EDT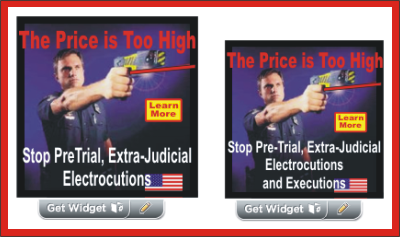 Get Widget at the Electrocuted While Black blog
Francis L. Holland, Esq.
Afrosphere Action Coalition (AAC)
http://francislholland.blogspot.com
http://truth-about-mccain.blogspot.com
francislholland@yahoo.com
55 (73) 3288-1716
July 23, 2008
Dear bloggers:

RE: Widget Action: "End Police Pre-Trial, Extra-Judicial Electrocutions and Executions" (Tasering)
Please consider placing one of these anti-taser widgets (various sizes available) at your blog, in preparation for a day of blogging against police pre-trial,
extra-judicial electrocution and execution of members of the public.
The widgets lead readers to a new "Electrocuted While Black" blog
(by African American Political Pundit and me), where we will link to all of the blogs that have notified us by e-mail that they have joined the anti-electrocution (taser) campaign by adopting one of these widgets.
Subsequently, the Afrosphere Action Coalition (AAC) will call for a day of blogging on the issue, and then issue a press release
including the names and links of the participating afrosphere blogs.
In spite of police claims that electrocuting Blacks and other members of the public is necessary and normally harmles, research reveals that 600 pound bears and
one thousand pound moose are often treated by game wardens with greater care for their wellbeing and integrity than are members of the public when confronted by police officers armed with electrocution/execution devices.