by Inoljt, Mon Oct 26, 2009 at 12:49:57 PM EDT
By: Inoljt, http://thepolitikalblog.wordpress.com/
The New Jersey governor's election is less than two weeks away, and it deserves far more attention than I have been giving it. Nevertheless, I will now belatedly share some thoughts that have been stewing in my head.
Here is a snapshot of the race, taken on October 25th: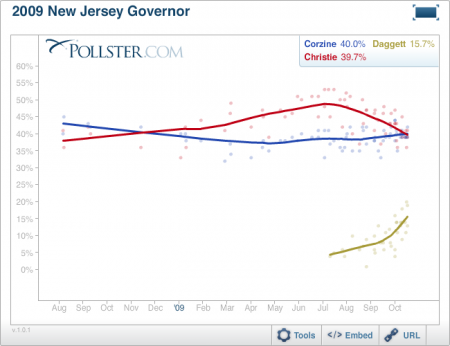 There are several unmistakable trends here. The challenger Attorney Chris Christie gains a double-digit lead over the incumbent, for fairly obvious reasons. Then, mysteriously, he proceeds to lose it. Incumbent Governor Jon Corzine's share of the vote mostly remains flat but - and this is important - trends slightly upward. While the two main candidates blast each other, third-party candidate Chris Daggett draws support at an accelerating rate.
Mr. Corzine's positive trend should encourage Democrats; it indicates that he is actually building support, not just tearing down Mr. Christie. In addition, expect Mr. Daggett to overperform on election day as he reaches viability. Normally, third-party candidates perform below their polling; this election, however, with both major candidates highly unpopular, constitutes anything but a normal situation.
The strangest and most interesting part of the campaign, however, has been the story of Mr. Christie.
Continued below the flip.