by Chelsea Sexton, Fri Mar 21, 2008 at 11:15:28 AM EDT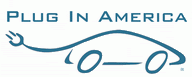 Plug In America Needs Your Help. You Are Invited!
Plug in America Press Conference and Rally
Date: Wednesday - March 26, 2008
Time: 10:30 a.m.
Where: California EPA Building
..........1001 I Street
..........Sacramento, Ca
Electric Car Drivers: Bring Your EVs!
We want zero emission electric cars on the road, and we want them NOW! Help PIA inspire Governor Arnold Schwarzenegger and CARB Chair Mary Nichols to do the right thing by clicking here.