by Maryscott OConnor, Sat Sep 06, 2008 at 06:59:07 AM EDT


Crossposted fromMY LEFT WING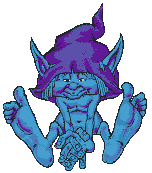 His first comment:

How can Obama juggle being president and a Black Man?

Intersted (sic) in hearing comments on this issue!

I mean really how can a black man handle being president?

We all know that it would be IMPOSSIBLE for a mom to be VP...right?
A My Left Wing regular responds:

what do you think
the problems would be that need juggling? What is it about being a Black man that you think conflicts with being president? Is there some job or policy about which Obama will have to say, "You know, Joe, I'm a Black man, so i can't do this one. You'll have to take it?"

Give us a guideline by outline the problem as you see it for us. Please.
To which I respond, with my usual irrepressible aplomb:

That giant swinging cock will get in the way, of course.

Everybody knows that.
And the possibly syphilitic troll comes back, using those tactics they probably teach in Seminars for Conservatives Who Blog:

Giant swinging cock

Well it might be more pleasing to the interns!! But see that's a positive...this thread is here to explore the negatives of being a black man and trying to juggle responsibilities.

Could it that black men are inferior to the rest of the population? You know similarly to being a women and having children...women can't multitask and juggle responsibility like a white man can..as this has been pointed out so very well in the media since Sara Palin has come on the scene.
Now... here's my response to THAT...