by Inoljt, Fri Oct 09, 2009 at 04:21:26 PM EDT
By: Inoljt, http://thepolitikalblog.wordpress.com/

Before continuing on my analysis, I'd like to congratulate President Barack Obama on winning the Nobel Peace Prize today.
Now onto the analysis: Some of you may recognize this map.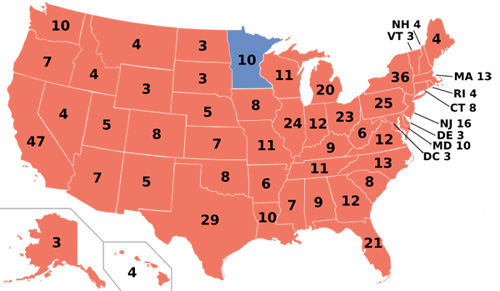 For those who don't, this is Ronald Reagan's landslide election over his hapless opponent Walter Mondale.
Unfortunately, for those who look for political trends, this map hides more than it reveals. For example, Reagan wins Massachusetts, but reasonable people would agree that Massachusetts is normally a Democratic state.
Here is a more revealing map.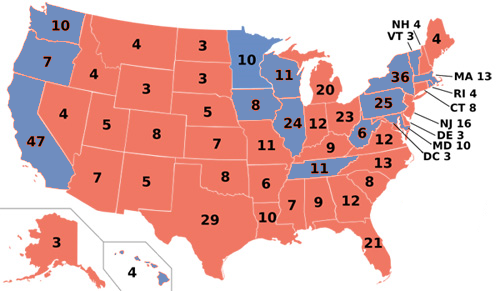 You probably don't recognize this map. There's a good reason for that - there's never been a presidential election with the above results.
In fact, the previous electoral college is what would have happened if Walter Mondale and Ronald Reagan won an equal share of votes. The blue states are those in which Reagan won with less than 18.2%, the exact amount by which he beat Mondale.
This map bears an eerie resemblance to today's electoral maps.
More below the flip.