The Independents
by Jerome Armstrong, Tue Sep 09, 2008 at 05:08:43 AM EDT
Independents, Gallup says today, swung big to McCain: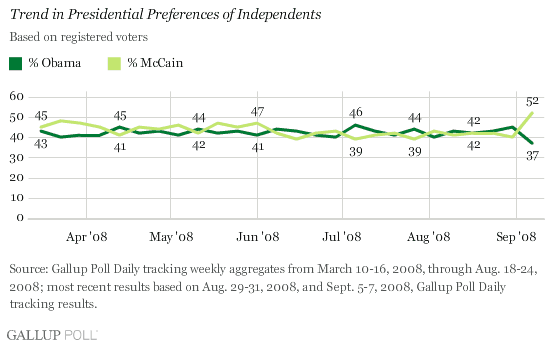 Gallup's finding are being confirmed by two other polls that came out yesterday.
CBS: McCain is ahead by 55-29 among Independents.
Hotline: McCain is ahead by 45-32, among Independents.
Neither ABC or CNN, in their polls, offered up the results broken down by partisan identification. Under this sort of scenario, the only possible way Obama could be ahead, or tied, is if party ID dramatically favors Democrats on election day. It hasn't in any of the recent election years.
Rasmussen, which weights by party ID and has shown a pre-convention Democratic lead, wrote yesterday about a correlative finding:
For a variety of reasons, the Rasmussen Reports daily Presidential Tracking Poll is less volatile than some other polls and always shows a somewhat smaller convention bounce than reported by others. This is primarily because we weight our results by party identification. Looking at the data before adjusting for partisan identification, the Republican convention appears to have created a larger surge in party identification than the Democratic convention the week before. If this lasts, it could have a significant impact on Election 2008.
Oh yea, I almost forgot... Sarah Palin.