More reality based posts on the primary process
by Jerome Armstrong, Sun May 25, 2008 at 03:19:05 PM EDT
Who knew there were so many statisticians that read MyDD, or that they had problems comprehending an Y axis, clearly numbered, that doesn't begin at 0! OK, lets talk more about pledged delegates and votes. In the post of Jay Cost, he lays out a number of different graphs, showing the basis of Obama's support, and how he's winning the nomination, among those, the ratio of pledged delegates to votes.
A curious fact is that, though Clinton and Obama are about tied in the popular vote, it takes about 960 more votes for Clinton to gain a single pledged delegate, as it has for Obama (overall). That is, after nearly all the contests, for every 11790 votes Clinton gets, she's earned a pledged delegate, and for every 10800 votes that Obama has gotten, he's earned a pledged delegate.
That's pretty significant, when you consider that it represents about a 9% hardship for Clinton, or a 9% handicap for Obama, in comparison.
Now, by any measure of counting the votes, there is no where near a 9% separation between Clinton and Obama, with the margin going from 1.6% for Obama to .5% for Clinton currently.
Why has this happened? It's pretty clear in one of the other graphs that Cost presents: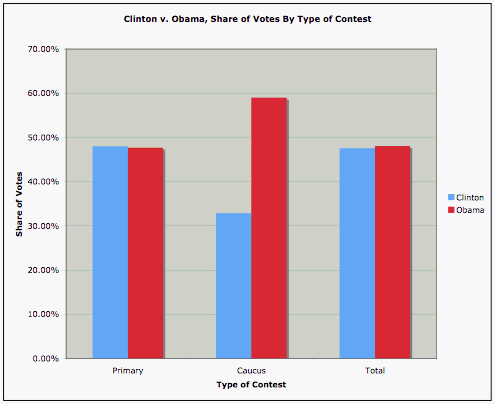 As you can see, Clinton leads by a sliver among those that have voted in primaries, while with the chart here, Obama leads in votes total (doesn't count MI or FL). And yet, among the caucus states, Obama leads by far in the votes. Now, Jay doesn't present the delegate votes by caucus states, but its clear that this is where Obama owes his lead too.
There is little doubt, after FL & MI get resolved & PR votes, that Clinton will lead the popular vote, yet, she will trail in pledged delegates. That's entirely due to the caucus system in place in certain states. Clinton has no basis on which to complain, the un-democratic rules were in place, and everyone knew, but it does point to something that needs to be changed.

Tags: 2008 election (all tags)