Waste, Waste, Waste
by MacWilliams Kirchner Sanders, Wed May 16, 2007 at 11:13:31 AM EDT
Media, Advertising, Television, Cable, Media Buying
Yesterday, we revealed the bottom line results, of our study: if the Democratic organizations buying ads in three Congressional Districts (IA-01, KY-03 and OH-15) would have taken advantage of cable's microtargeting potential, they could have gotten nearly twice as many points on their cable buys at a savings of 30% or more - roughly $52,000 per week.
Those savings were rooted in four types of waste:
1. Geographic Waste
2. Network Waste
3. Programming Waste.
4. Frequency Waste.
We'll take you through each one after the jump.

Geographic Waste
Geographic waste occurs when a buy reaches a substantial number of voters outside the campaign's political boundaries - in this case, outside the boundaries of the three Congressional Districts.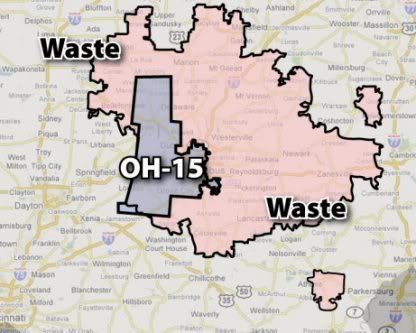 The blue area in the map is Ohio's 15th Congressional District, which covers most of Columbus and its northern and western suburbs. The pink represents areas outside the Congressional District that were reached by the Democratic groups' cable buys.
As described in yesterday's post, the Democratic groups bought the Interconnect in Ohio and Kentucky. The Interconnect is a collection of cable systems in a particular media market that have joined together for the purpose of selling ads over a wider part of the market. While that makes sense for car dealerships and retail stores whose customers live throughout the media market, it doesn't make sense for political campaigns whose voters live in only a small part of that market.
And the map above shows clearly that the cable buy in Ohio-15 reached an awful lot of voters who live outside the congressional district. In fact, more than a third of the people reached with their ads lived outside the 15th Congressional District and couldn't vote in the election.
The same was true for KY-03, a district that encompasses Louisville and its surrounding suburbs. More than one-third of the households reached through the Democratic group's cable buy here were outside the congressional district - many of them across the river in Indiana.
Since cable systems don't track the boundaries of congressional districts (or other political subdivisions), there will always be some geographic waste or, potentially, some areas that aren't reached by cable. But it is essential for media consultants and buyers to spend the time it takes to minimize that waste.
Think about it from this perspective: Would it be okay if canvassers were routinely knocking on doors in the wrong Congressional District? Or if a pollster were continually phoning voters in the wrong Congressional District? What if the direct mail firm repeatedly sent mail to voters in the wrong District? In all of those cases, the consultant would (or at least should) be fired. The same level of accountability should be applied to media buyers.
In some cases, typically in the closing weeks of an election where there are many hotly-contested races, the cable inventory may be tight or sold out on local systems and they will try to push the campaign to buy the Interconnect. In those cases, the campaign needs to (1) push back and try to negotiate for spots on the local systems; and (2) weigh the cost of buying the Interconnect against the amount of waste and the availability of other options for communicating with its targeted voters. This problem can often be avoided by placing the buy earlier in the cycle for the closing weeks of the campaign.
Network Waste
Network Waste occurs when ads are placed on cable networks that aren't being watched by a campaign's target audiences. One of the beauties of cable is that the different networks attract different types of viewers. Republicans are more likely to be watching FoxNews. Men are more likely to be watching ESPN and the History Channel. Women are more likely to be watching Food Network, Lifetime, and Home and Garden.
So if a campaign is targeting women and Independents, as most Democrats did and needed to do in 2006, then they shouldn't be buying Fox News.
Nor should those campaigns just buy virtually all of the networks that are available on a particular cable system. But that's what the group in Kentucky-03 did.
There were 42 cable networks available on the Interconnect in the KY-03 market, and the Democratic group bought 36 of them - including FoxNews, the History Channel, Sci-Fi, ESPN, Golf and other networks that cater largely to male, Republican voters. The only networks they didn't buy were VH1, MTVs, Cartoon Network, Nickelodeon and TV Guide.
There's no real targeting involved when a campaign buys 36 of the 42 networks available on a cable system. And it's mis-targeting when they buy networks that are mostly being watched by their opponents' audiences (like FoxNews and the History Channel).
Programming Waste
Programming Waste occurs when a campaign buys only "run of schedule" ads instead of "spot buying" - placing the ads on the highest rated programming for its target audience.
"Run of schedule" (ROS) is a media buying option that lets the cable system, rather than the campaign, decide when, during a particular time period (e.g. 7:00 pm - Midnight), a TV ad will actually air. Within any such time period, there will be some programs that get higher ratings and some that get lower ratings. If a campaign buys run of schedule, its ads are likely to end up in the lower rated programming because the smart money is already spot buying on the higher rated programs.
For example, in Ohio-15, the prime time (7 - Midnight) ROS on Monday nights gets a 1.4% rating among Women 35+. But Without a Trace, which airs from 7-8 on Monday nights, gets a 3.2% rating - more than twice the audience. And, in this case, it only costs about 15% more per spot to get an audience that's more than twice as large.
It is important to point out that campaigns can't always spot buy. Some cable systems limit spot buying for political campaigns or don't allow them at all. (When that happens, the buyers have to push back and negotiate hard for whatever they can get. Most of the time it works.) And sometimes the premium for buying a particular program outweighs the higher rating. But that should be the first stage of the analysis: examining what spot programming is available and what will it cost. While it takes more time, effort and analysis to do spot buys, it's critical for any campaign that is serious about taking advantage of cable's cost efficiencies and microtargeting potential.
Frequency Waste
Frequency Waste occurs when too few spots are bought over too many time slots. That's a scattershot approach that is both inefficient and ineffective.
In KY-03, not only did they spread their buy out on 36 of the 42 cable networks, but they bought every time slot, too.
6 am - Noon: One spot per day.
Noon to 6 pm: One spot per day.
6 pm - Midnight: One or two spots per day (depending on the network).
When an ad runs just once every 6 hours, it's spread so thin that it doesn't have any realistic chance of being seen often enough to make a difference (especially when it is a "run of schedule" buy on virtually every cable network in the market). It would make more sense to consolidate the buy in the higher rated time slots - preferably using spot buys to cherry-pick the highest rated programs in those time slots - as well as on the networks being watched by the campaign's target voters.
Tomorrow: There is a better way.
Tags: advertising, Cable, Media, Media Buying, television (all tags)