On Republicans 08
by Jerome Armstrong, Tue May 01, 2007 at 05:49:52 AM EDT
Let's talk about the Republicans. What's the state of 2008's nomination for them? I guess the CW would be that Giuliani still has the lead, that McCain had stopped his slipping, that Romney is still below, that the movement conservatives are still waiting for their candidate--Thompson more than Gingrich now.
Here's the latest national poll: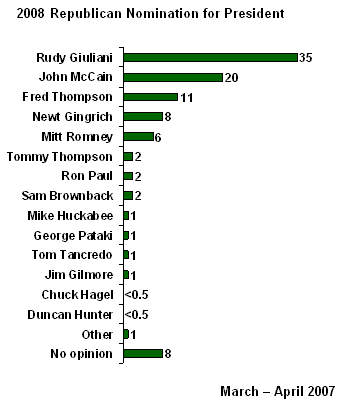 And here's a poll from Alabama, one of the early primaries:
Among 402 likely GOP primary voters surveyed by phone, 23 percent said they would most likely back McCain, who represents Arizona, while 22 percent favored Giuliani, a one-time federal prosecutor who led New York City for eight years.
Former Massachusetts Gov. Mitt Romney garnered 12 percent, followed by two prospective contenders who are still weighing whether to get into the 2008 race. Former U.S. Sen. Fred Thompson of Tennessee had 10 percent, while 7 percent of respondents opted for former U.S. House Speaker Newt Gingrich of Georgia.
I went looking inside Gallup's
Inside the Republican Vote for President
poll for clues. It's clear, that Giuliani's support ois soft. If the vote were today, he would not as strong as is his polling, and neither is McCain. The ideological conservatives are not backing either of those two in as strong of numbers as are "moderate" Republicans (how many of those exist?) or Independents that lean Republican (and don't vote in primaries).

Everytime I've went around the rightwing blogosphere looking at who they are chatting about, it's Fred Thompson. Gallup, among the self-described conservative voters has Thompson in a solid third nationally, and in the South, he's running second. Furthermore, Giuliani's support is strongest among the 18-29 year-olds. I don't believe it's accurate any longer to say that the 18-29 year-olds don't vote, because the last two cycles have shown a reversal of that trend--they do vote... but in primaries? That's hypothetical at best, especially because of the lack of party identification. And heck, if Thompson runs, he'll probably outshine Giuliani among the GOP youth too.


All signs appear pointed to Thompson declaring this summer. Mike Allen is beginning to roll out the potential kinks of his potential campaign: all those women-- 'hell ya' says Fred. HBO is pumping up big promo dollars behind the upcoming movie 'Bury My Heart at Wounded Knee' (featuring Thompson as President Ulysses Grant). Thompson is kicking butt on the rightwing blogger polls, and his insiders are leaking that they will run a techno-pr campaign, ala the Obama of the right. The roll-out is scheduled to begin in July, my guess is the 4th. The media whores are gonna love this one.

Tags: Fred Thompson, Republican 2008 (all tags)